Seasonality and frugivory by swallow-tanager Tersina viridis (Illiger, 1911) in reforested gallery forest of the Mogi Guaçu river, São Paulo, Brazil
Keywords:
seasonality, ornitocoric plant, Tersina viridis, Trema micrantha
Abstract
According to the literature, Tersina viridis (Illiger, 1911) has seasonal habit concerning to its local displacements. However, the reasons of such displacements are still poorly known. In reforested gallery forest area of the Mogi-Guaçu river, São Paulo state, Brazil, i quantified the annual variation of the population density of T. viridis throughout a year period every month. The number of individuals of the species increased substantially during the dry season, whereas in the rainy season no individual was observed. These findings suggest a seasonal behavior of the species in this site. They also suggest that T. viridis probably has different routes of displacement in large flocks during the dry season in the interior of the São Paulo state and surroundings. The larger abundances of some ornithocoric plant species may explain the routes of such displacements in the studied site, rather than the general pattern of fruiting of the ornithocoric species.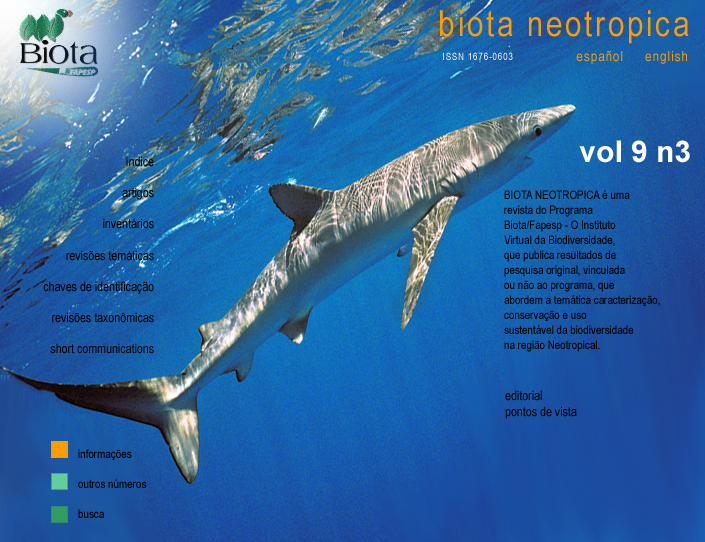 How to Cite
Rubim, P. (2009). Seasonality and frugivory by swallow-tanager Tersina viridis (Illiger, 1911) in reforested gallery forest of the Mogi Guaçu river, São Paulo, Brazil. Biota Neotropica, 9(3). Retrieved from //www.biotaneotropica.org.br/BN/article/view/527