Birds of a forest remnant in the Iron Quadrangle of Minas Gerais, southeastern Brazil
Keywords:
Atlantic Forest, bird communities, Cerrado, mining activities
Abstract
The Iron Quadrangle (IQ) is a region of southeastern Brazil known for having good-quality mineral deposits of worldwide economic importance. The iron extraction process causes large scale landscape transformations with unknown impact on the local biodiversity. This paper presents a bird list of a remnant forest fragment in the IQ. The surveyed area named "Mata Samuel de Paula" is a 147 ha conservation unit located in a transitional area between two large biomes: the Atlantic Forest and the Cerrado. Its vegetation is a mix of second-growth semi-deciduous forest, scrublands, and ferruginous rocky fields. Bird censuses were carried out during a one year period using observational transects and mist-net captures. A total of 159 species were recorded and richness was estimated to be about 188 species. Information on habitat, frequency of occurrence and seasonality, migratory, endemic, and conservation status were also obtained for each species. Four species recorded are threatened; twenty-eight species are endemic to the Atlantic Forest, three to the Cerrado, and one to particular mountain tops in southeastern Brazil. An analysis of bird lists from five other protected areas in IQ suggests that additional 50 endemic and 21 threatened species may exist in the region. Multiple regression showed a strong relationship between number of Atlantic Forest endemic species, area and longitude of natural reserves, a result also suggested by comparing the number of threatened species with the area of the reserves through simple regression. Results also indicate that a number of the threatened species are restricted to bigger reserves. The IQ is a valuable region for avian conservation efforts, but faces significant disturbance pressures from highly antagonistic economic interests. Despite the enormous threats the region faces, there are still large gaps in the baseline information yielded by biodiversity surveys, which is a basic tool for implementing effective conservation plans.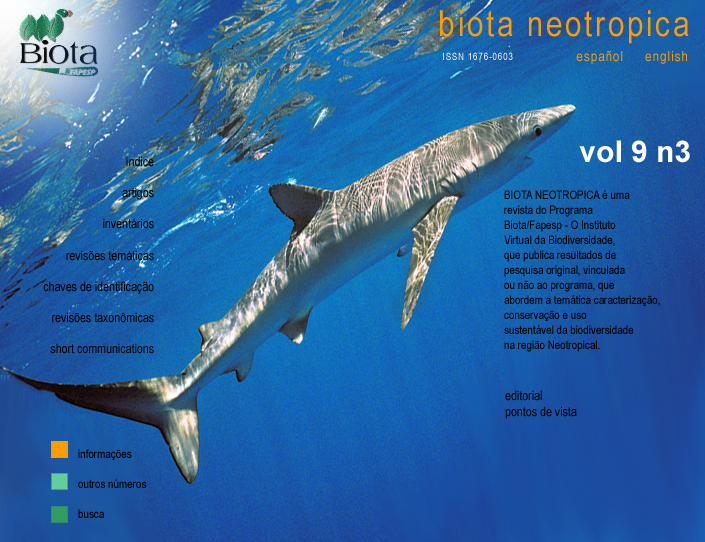 How to Cite
Ferreira, J. D., Costa, L. M., & Rodrigues, M. (2009). Birds of a forest remnant in the Iron Quadrangle of Minas Gerais, southeastern Brazil. Biota Neotropica, 9(3). Retrieved from //www.biotaneotropica.org.br/BN/article/view/523