A survey of the ichthyofauna at Floresta Nacional de Canela, in the upper region of Rio Caí basin, Rio Grande do Sul, Brazil
Keywords:
fish, headwaters streams, National Conservation Unity, exotic species
Abstract
Data referring to a survey of the fish fauna at Floresta Nacional de Canela, a National Conservation Unity located in the upper region of Rio Caí basin, in higher altitudes of Serra Geral do Rio Grande do Sul are presented in this study. Nine sites were sampled in several aquatic environments, including a swamp, dams and streams situated inside and in the nearby area of the unity. In order to capture the specimens, hand net, seine net, fishing lines, gill nets and baited traps were used. Altogether 20 species were found, belonging to 10 families and 6 orders. Hyphessobrycon luetkenii had a wider distribution, occurring in almost all of the sampled points, while Callichthys callichthys was recorded in only one site. In the dams, the order Perciformes was the most representative, followed by Cypriniformes and Characiformes. These environments are characterized by the dominance of family Cichlidae (Perciformes), of which most of the Neotropical species have preference for stagnant water environments. The occurrence of four exotic introduced species is highlighted (Ctenopharingodon idella, Cyprinus carpio, Hypophthalmichthys molitrix and Micropterus salmoides) with distribution restricted to the dams. For the streams, a greater specific richness of Characiformes and Siluriformes of small size was observed, a pattern that had already been found in the South American streams. It is also featured, the presence of species with non defined taxonomic status, such as Trichomycterus sp. and Astyanax aff. scabripinnis, reinforcing the importance of surveys on headwaters streams from Rio Grande do Sul, in order to obtain information to subsidize measures to conserve these environments. Despite the fact that the exotic species were registered only in the dams, their eradication from the conservation unity is recommended, considering the threats that they may represent for the native ichthyofauna and for the other aquatic ecosystems of the region.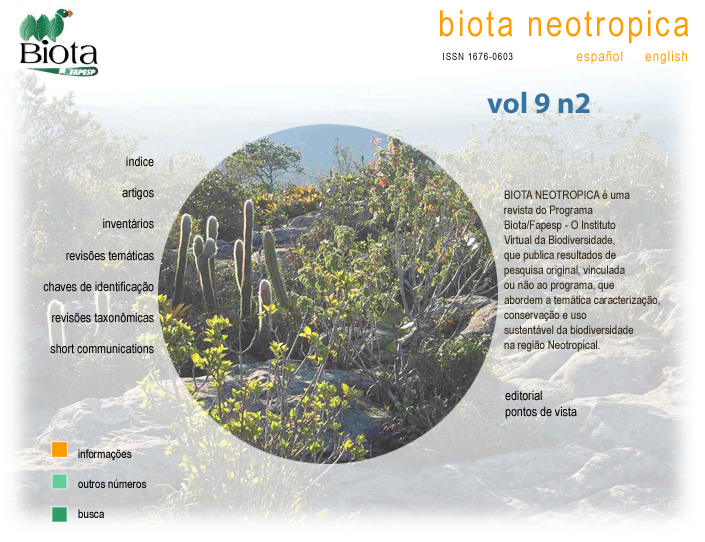 How to Cite
Dala-Corte, R. B., Franz, I., Barros, M. P. de, & Ott, P. H. (2009). A survey of the ichthyofauna at Floresta Nacional de Canela, in the upper region of Rio Caí basin, Rio Grande do Sul, Brazil. Biota Neotropica, 9(2). Retrieved from //www.biotaneotropica.org.br/BN/article/view/505