Bromeliaceae of Ilha Grande: species checklist review
Keywords:
Atlantic forest, sampling effort, species-area curve, sampling methods
Abstract
Ilha Grande, located at the Southern coast of Rio de Janeiro State, is constantly punctuated as an important area for conservational purposes, specially because it is a representative fragment of Atlantic forest and presents a high number of studies about the local fauna and flora. The aim of this study is to analyze the current knowledge of Bromeliaceae family at this island, and understand how the increase of the family's species list occurred through out the amount of time and sampling effort of this study. A total of 58 species of Bromeliaceae were listed for Ilha Grande, and 47 of them were sampled using only the methodology adopted at this study and, therefore, constitute new records for Ilha Grande.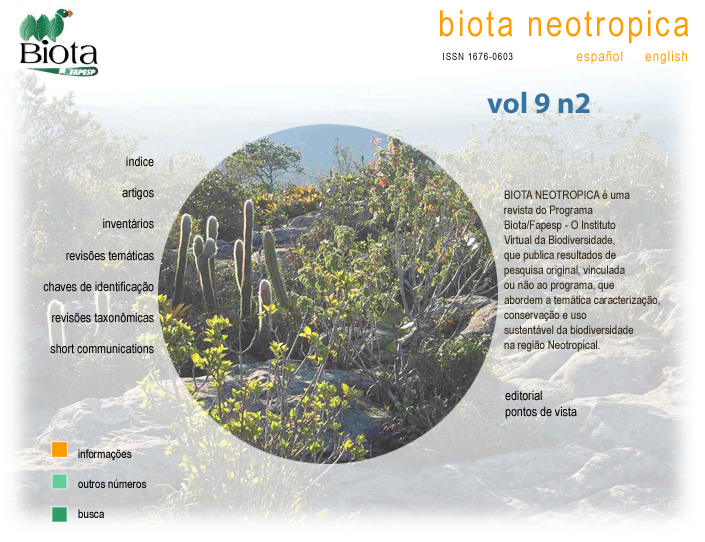 How to Cite
Nunes-Freitas, A. F., Rocha-Pessôa, T. C. da, Dias, A. dos S., Ariani, C. V., & Rocha, C. F. D. da. (2009). Bromeliaceae of Ilha Grande: species checklist review. Biota Neotropica, 9(2). Retrieved from //www.biotaneotropica.org.br/BN/article/view/504