Ichthyofauna of the Jaguari river microbasin, Jaguari /RS, Brazil
Keywords:
diversity, Uruguay river, fishes
Abstract
The microbasin of the Jaguari river belongs to the hydrographic basin of the River Uruguay and has its estuary in the raised edge of the river Ibicuí. This work had the objectif identify the existing ictyofaun of the microbasin of the river Jaguari in Jaguari-RS. For the accomplishment of the research identifications of units captured in the four months of the year had been carried through, being that nets of wait of each one of following meshes (measured in cm between adjacent points): 1.0; 1.5; 2.0; 2.5; 3.0; 4.0; 5.0; 6.0; and 7.0. The wait nets had remained in the water for 24 hours, being revised to each six hours, always in same periods (06:00 AM; 12:00 AM; 06:00 PM and 12:00 PM hours). The collected fish, after to be identified, had been numbered and then after, fixed in formaldehyde conserved 4.0% and later in alcohol 70.0%. A total of 572 individuals in the four stations of the year were identified, distributed in 14 families and 26 species. In the spring the biggest capture occurred, with 156 individuals, distributed in 15 species; in the period of summer the biggest richness occurred, with a capture of 146 individuals distributed in 19 species; in the autumn and winter a capture of 135 individuals for both occurred the stations, with a richness of 16 and 12 species, respectively. The species most abundant, with 291 units, was Apareiodon affinis, being that Hemiancistrus fuliginosos (75), Hypostomus commersoni (50) and Steindachnerina brevipina (41) also had high representation.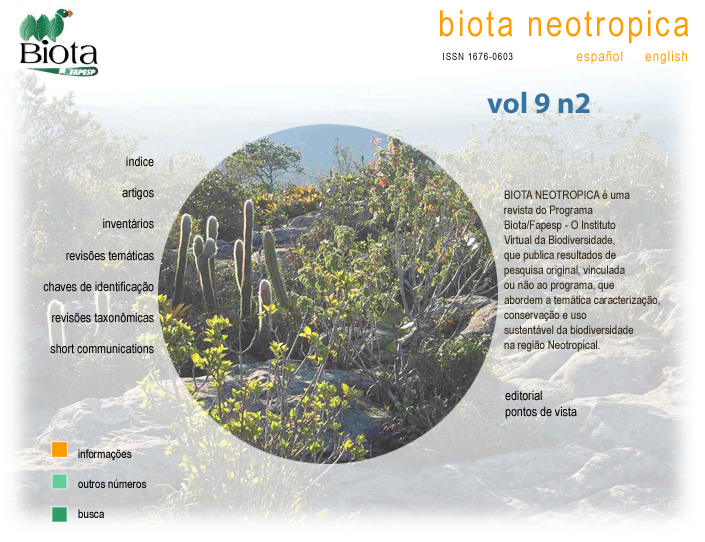 How to Cite
Copatti, C. E., Zanini, L. G., & Valente, A. (2009). Ichthyofauna of the Jaguari river microbasin, Jaguari /RS, Brazil. Biota Neotropica, 9(2). Retrieved from https://www.biotaneotropica.org.br/BN/article/view/501