Movements of the bottlenose Dolphin (Tursiops truncatus) in the Rio de Janeiro State, Southeastern Brazil
Keywords:
Tursiops truncatus, resigthings, Rio de Janeiro state, southeastern Brazil
Abstract
Aiming to verify the movements of the bottlenose dolphin (Tursiops truncatus) at Rio de Janeiro State coast, southeastern Brazil, we performed a photoidentification comparison between the catalogued individuals of the Cagarras Archipelago (23° 02' S and 43° 12' W) in 2004 and 2006 (n = 26) and the images obtained (n = 179) during the Southeastern Cetaceans Expedition, conducted during months of June and November of 2005. Eight individuals (three females and five dolphins of unknown gender) identified in the Cagarras Archipelago were resighted in the Grande Island (23° 21'S and 44° 15' W), about 100 km southwestwards from Cagarras Archipelago. The observed movements include distances commonly recorded for the species elsewhere and are probably related to search for prey.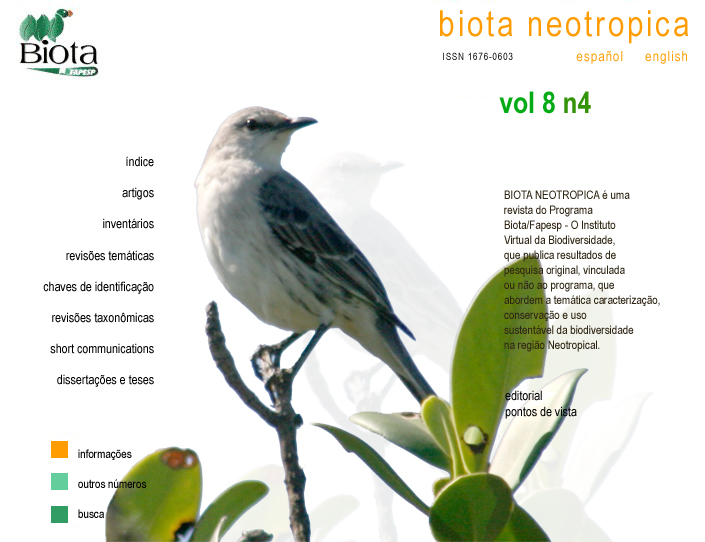 How to Cite
Lodi, L., Wedekin, L. L., Rossi-Santos, M. R., & Marcondes, M. C. (2008). Movements of the bottlenose Dolphin (Tursiops truncatus) in the Rio de Janeiro State, Southeastern Brazil. Biota Neotropica, 8(4). Retrieved from //www.biotaneotropica.org.br/BN/article/view/456
Section
Short Communications