State of knowledge of the macroturbellarians (Platyhelminthes) from Brazil
Keywords:
Turbellaria, Tricladida, Polycladida, biodiversity
Abstract
In the last decades, international efforts have increased, with the aim of acquiring greater knowledge on worldwide biodiversity and to propose adequate conservation policies. Brazil has joined in these efforts, as is shown by recent publications on the state of knowledge of several taxa of organisms. The macroturbellarians (Polycladida and Tricladida, Platyhelminthes) are part of one of the less studied faunal groups, not only in Brazil but also in other regions of the world. In the present study we inventoried the knowledge on the diversity of Brazilian macroturbellarians and make a comparison with that from the rest of the world. We also analyze the accomplishments of Brazilian taxonomists dealing with macroturbellarians, with regard to the world context. Our results show that almost all of the 246 described species are from the South-eastern and Southern regions. The number of species will increase significantly when new samples are undertaken in biomes and regions still little or non-sampled, as well as in already explored areas. Brazil is relatively well provided with specialists in relation to other countries. Nonetheless, in view of the high numbers of estimated diversity, new samples should concur with the academic formation of new taxonomists.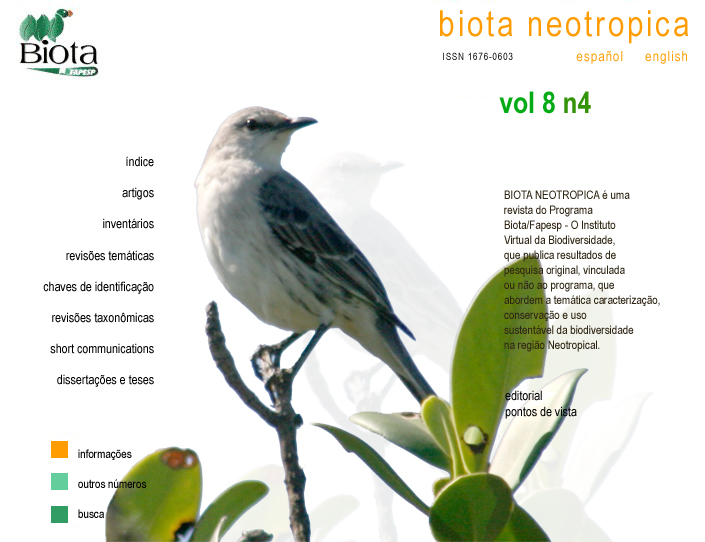 How to Cite
Carbayo, F., & Froehlich, E. M. (2008). State of knowledge of the macroturbellarians (Platyhelminthes) from Brazil. Biota Neotropica, 8(4). Retrieved from https://www.biotaneotropica.org.br/BN/article/view/451