The butterflies (Lepidoptera, Papilionoidea) of the University Campus Darcy Ribeiro (Distrito Federal, Brasil)
Keywords:
cerrado vegetation, conservation, habitat fragmentation, inventory
Abstract
The Brazilian cerrado, the second largest bioma in this country, is now constituted only by fragments of vegetation that together correspond to less than 20% of its original vegetation. This study investigates the butterfly fauna found in fragments of cerrado sensu stricto and gallery forest of the University Campus Darcy Ribeiro. A list containing 128 butterfly species, corresponding to approximately 25% of all Papilionoidea found in the Distrito Federal is presented. Some factors affecting the species richness of butterflies in the study sites are also discussed.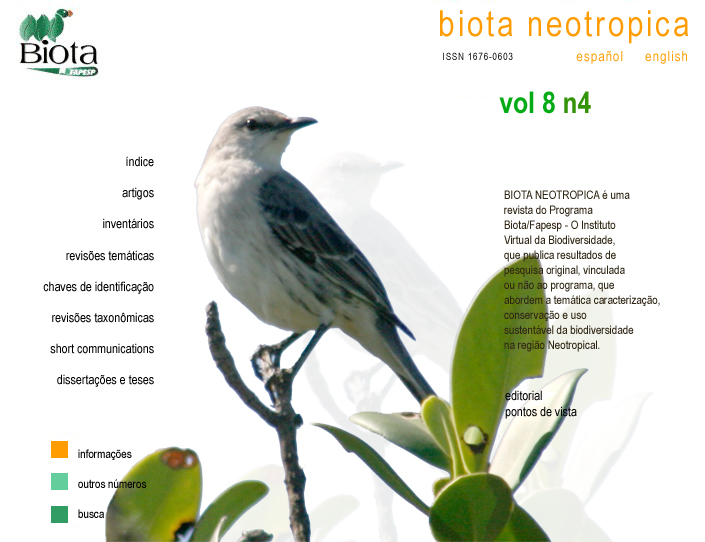 How to Cite
Pinheiro, C. E. G., Malinov, I. C., Andrade, T. O., Maravalhas, J. B., Andrade, M. B. M. de, Deus, L. P. A. de, Pedrosa, L. G. P., & Zanatta, G. V. (2008). The butterflies (Lepidoptera, Papilionoidea) of the University Campus Darcy Ribeiro (Distrito Federal, Brasil). Biota Neotropica, 8(4). Retrieved from //www.biotaneotropica.org.br/BN/article/view/447