New references of rhodophytes from the Brazilian coast
Keywords:
Rhodophyta, new records, Brazil, Atlantic Ocean
Abstract
Seven taxa of benthic marine rodophytes are reported for the first time from the Brazil littoral: Acrochaetium corymbiferum (Thur. in Le Jolis) Batters, A. liagorae Børgesen, Aglaothamnion herveyi (M. Howe) Aponte, D.L. Ballant. & J.N. Norris, Crouanophycus latiaxis (L.A. Abbott) Athanas., Grallatoria reptans M. Howe and Gelidiella sanctarum Feldmann & Hamel. Gelidiopsis repens (Kütz.) Weber Bosse this is the new reference to the Atlantic Ocean. The material collected on mediolittoral and infralittoral was deposited in the Herbarium Alexandre Leal Costa (ALCB) at the Universidade Federal da Bahia. Reference to the original description, basionym, morphological description, geographical distribution and taxonomical comments are presented for each taxon studied.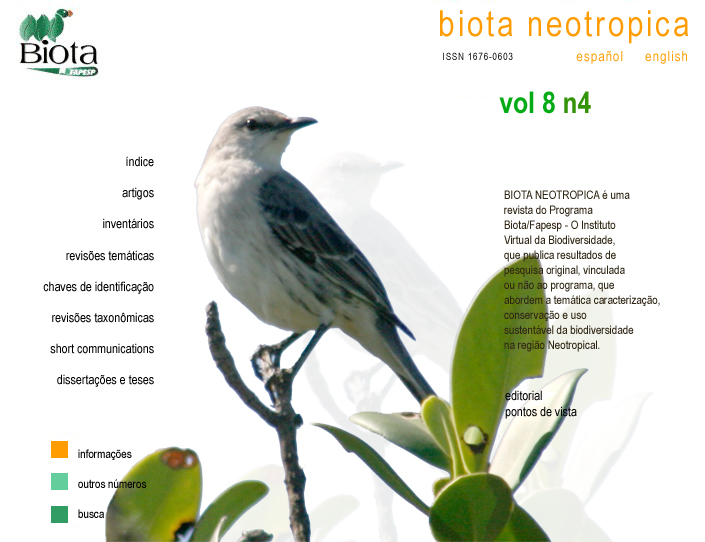 How to Cite
Nunes, J. M. de C., & Guimarães, S. M. P. de B. (2008). New references of rhodophytes from the Brazilian coast. Biota Neotropica, 8(4). Retrieved from //www.biotaneotropica.org.br/BN/article/view/443