New record of Thalia cicar van Soest 1973 (Urochordata: Thaliacea) in the Equatorial Atlantic
Keywords:
salps, biogeography, Brazilian northeastern waters, São Pedro e São Paulo archipelago
Abstract
Thalia cicar van Soest 1973 (Urochordata, Thaliacea) is considered a tropical-subtropical species, registered in the Atlantic Ocean at latitudes between 7-34º S and 6-32º N. This work enlarges the occurrence of this species for Equatorial Atlantic waters. The specimens were found in a shelf break area of the Brazilian northeastern (07º 50'-07º 70' S and 34º 23' W) during the expedition JOPS-II (Joint Oceanographic Projects II) in March 1995; and, in São Pedro e São Paulo arquipelago (0º 55' N and 29º 20' W) in May and June, 2005. These two areas are characterized by the presence of local upwelling that induces the ascent of bottom waters rich in nutrients, generating areas of larger productivity than the typically oligotrophic Equatorial Atlantic waters. The new occurrence of Thalia cicar reported in this work can be related to these more productive waters of Equatorial Atlantic. The species that is most commonly found in the Atlantic Ocean is T. democratica, and the lack of past records of T. cicar might have been caused by the taxonomic difficulties determining of the solitary and aggregate zooids of these two species. This work suggests the potential use of the ratios among tunic lengths as an additional character to differentiate T. cicar and T. democratica oozooids.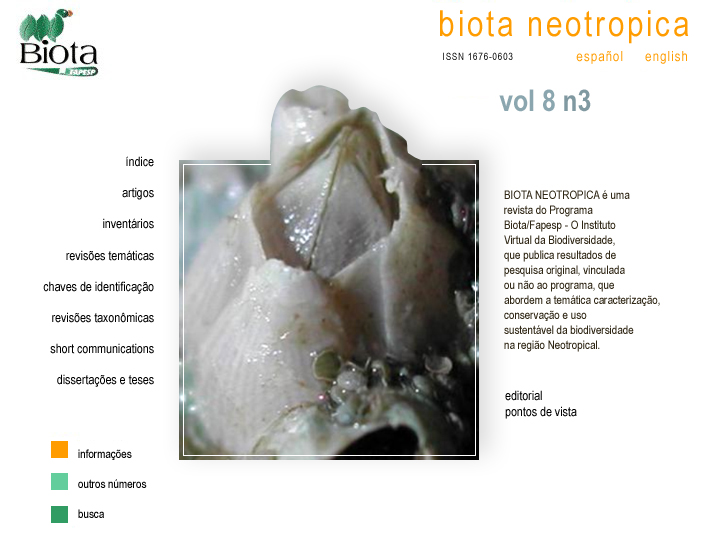 How to Cite
Díaz, X. F. G., Gusmão, L. M. de O., & Neumann-Leitão, S. (2008). New record of Thalia cicar van Soest 1973 (Urochordata: Thaliacea) in the Equatorial Atlantic. Biota Neotropica, 8(3). Retrieved from //www.biotaneotropica.org.br/BN/article/view/436