First record of Lutzomyia yuilli Young & Porter, 1972 and Lutzomyia triramula (Fairchild & Hertig 1952) (Diptera: Psychodidae) in Caldas departament, Colombia
Keywords:
Phlebotominae, Leishmania, Nyssomyia, Trichopygomia, new record, Colombia
Abstract
Nine species of Lutzomyia were collected during the research of various cutaneous leishmaniasis foci in the department of Caldas, Colombia: Lutzomyia gomezi (Nitzulescu, 1931), Lu. ayrozai (Barretto & Coutinho 1940), Lu. panamensis (Shannon 1926), Lu. bifoliata Osorno, Morales, Osorno & Hoyos, 1970, Lu. trapidoi (Fairchild & Hertig 1952), Lu. yuilli Young & Porter, 1972, Lu. triramula (Fairchild & Hertig 1952), Lu. atroclavata (Knab 1913), and Lu. trinidadensis (Newstead 1922). Two of these species constitute a new record for the department, Lu. yuilli of the subgenus Nyssomyia, and Lu. triramula of the subgenus Trichopygomyia. The specimens of Lu. yuilli were collected using Shannon and CDC light traps in the municipality of Norcasia, while the specimens of Lu. triramula were collected using light and sticky traps in both Norcasia and Victoria municipalities. The importance of this finding, taking into account the limited distribution of Lu. triramula in the Colombian territory and the vector capacity of Lu. yuilli is considered.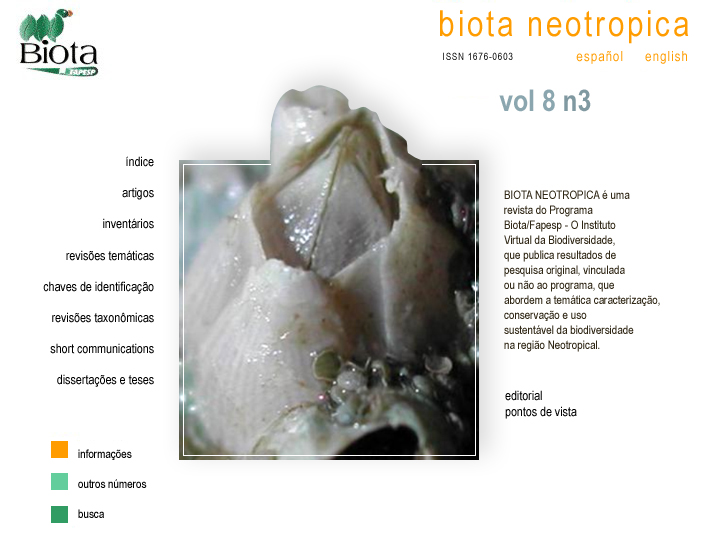 How to Cite
Vergara, D., Carrillo, L. M., Bejarano, E. E., & Vélez, I. D. (2008). First record of Lutzomyia yuilli Young & Porter, 1972 and Lutzomyia triramula (Fairchild & Hertig 1952) (Diptera: Psychodidae) in Caldas departament, Colombia. Biota Neotropica, 8(3). Retrieved from //www.biotaneotropica.org.br/BN/article/view/433
Section
Short Communications