The phytoplankton biodiversity of the coast of the state of São Paulo, Brazil
Keywords:
marine microalgae, inventory, diatoms, dinoflagellates
Abstract
The objective of this study is to compile the inventory of nearly 100 years of research about the phytoplankton species cited for the coast of the state of São Paulo, Brazil. A state-of-the-art study on the local biodiversity has long been needed to provide a baseline for future comparisons. This type of data is scattered in old scientific journals and in the so-called "grey literature", and are in need of nomenclature updating. Twenty-six publications are considered. The earliest sampling record is from 1913 (?) and the most recent from 2002. This checklist compiled from the literature was complemented with primary data collected between August 2004 and July 2006, recent surveys of the surf-zone of 20 beaches located along the coast and of a mariculture farm at the Cocanha Beach, Caraguatatuba. The complete species list includes 572 taxa: most are diatoms (82%), seconded by dinoflagellates (16%), with a minor contribution of silicoflagellates, coccolithophorids, ebriideans and cyanobacteria. The most investigated areas were: Ubatuba, São Sebastião, Santos and Cananéia. The recent surveys have a broader spatial coverage. The objectives of the studies have changed over the years from purely taxonomic to process-oriented investigations. Therefore, the longest species lists and most first records for the area were published before the 1980's and later publications, even those in which cell counts were performed, mention only the most abundant/frequent species. Electron microscopy was used for the first time in the present surveys, and new records include 38 diatoms, 42 dinoflagellates, 1 silicoflagellate, 1 ebriidean and 2 cyanobacteria. The use and interpretation of this species list require the perception of some constraints. It is not our role to question the identification made by other researchers. On the other hand, the ability to sample, analyze and identify species has evolved over the years and some considerations in this regard are presented.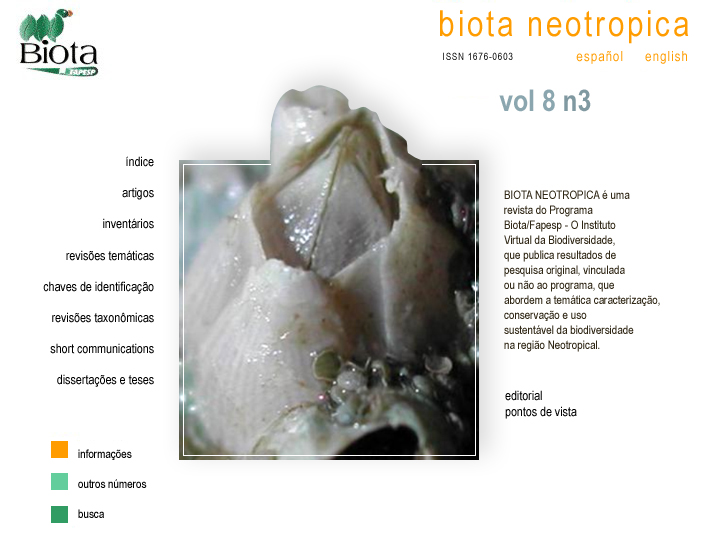 How to Cite
Villac, M. C., Cabral-Noronha, V. A. de P., & Pinto, T. de O. (2008). The phytoplankton biodiversity of the coast of the state of São Paulo, Brazil. Biota Neotropica, 8(3). Retrieved from //www.biotaneotropica.org.br/BN/article/view/426