Community structure of Tintinnina near the Atol das Rocas Island (Rio Grande do Norte) and Fernando de Noronha Archipelago (Pernambuco)
Keywords:
oceanic plankton, spatial distribution, Western South Atlantic, microzooplankton, northeast Brazil
Abstract
Tintinnina occurring near the Atol das Rocas Island and Fernando de Noronha Archipelago (northeastern Brazil) were studied using plankton samples gathered from 13 to 30 March, 1999, in 27 fixed oceanic stations. The study sought to characterize the spatial distribution of these ciliates in the area and to examine parameters such as diversity and equitability that define the community structure. The material was collected by vertical hauls from 200 m to the surface using a 20 µm mesh plankton net, preserved in 4% neutral formalin, and examined using an inverted microscope. The highest density of individuals was found in station 26 (122 ind.m-3), which is situated very close to Fernando de Noronha; but high densities were also registered in stations 1 (82.7 ind.m-3) and 2 (74.7 ind.m-3), which were situated in the most distant areas, as well as in station 5 (80.7 ind.m-3) close to the Atol das Rocas Island. Eutintinnus fraknoi (Daday) Kofoid & Campbell, 1929 was the most abundant species, attaining 57.8% of dominance in station 4. The index of specific diversity fluctuated from high (27% of the samples with values higher than 3 bits.ind-1) to medium (63% of the samples higher than 2 bits.ind-1), while the equitability fluctuated between 0.6 and 1.0. The low densities of Tintinnina observed in the material collected confirm the oligotrophic condition of that region.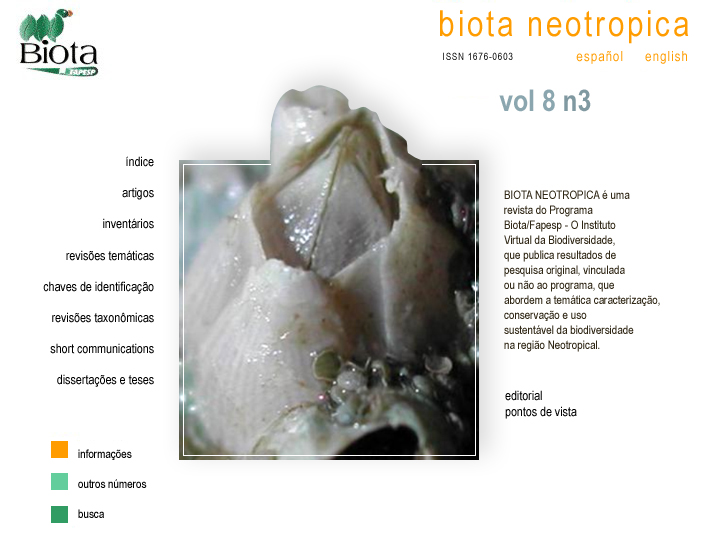 How to Cite
Nogueira, E. M. de S., Sassi, R., & Cordeiro, T. A. (2008). Community structure of Tintinnina near the Atol das Rocas Island (Rio Grande do Norte) and Fernando de Noronha Archipelago (Pernambuco). Biota Neotropica, 8(3). Retrieved from //www.biotaneotropica.org.br/BN/article/view/424