Germination of tropical dry forest tree species of Paranã river basin, Goiás state, after three types of storage and up to 15 months
Keywords:
tropical deciduous forests, ex situ conservation, criopreservation, forest seeds, direct seeding
Abstract
Seed dispersal in tropical deciduous forests occurs mostly in the dry season and germination at the onset of the rainy season. The delay of the first rains and dry spells are major mortality factors in dry forest regions. Storing seeds to plant during the constant rains could increase germination and seedling survival. We investigated the germination percentage of deciduous forest tree species after being stored i) at -20 ºC and -196 ºC (liquid nitrogen), and ii) at natural conditions for three and 15 months. Seeds of 19 tree species of deciduous forests of Paranã river basin, Goiás state, were collected from August to October 2005. Two experiments were run: i) storage for three and 15 months in brown bags at environmental temperature, ii) storage for 72 hours at -20 ºC cameras, liquid nitrogen (-196 ºC) and a control. Storage at environmental temperature decreased germination of only two species after three months, Cordia trichotoma (73 to 38%) and Copaifera langsdorffii (85 to 65%). Three species decreased germination after 15 months (Cordia trichotoma, 73 to 5%; Cavanillesia arborea, 77% to 12%; and Anadenanthera colubrina, 93% to 76%) and two species, Aspidosperma pyrifolium and Tabebuia impetiginosa, lost completely their germination. Temperatures -20 and -196 ºC decreased germination of only one species each, Tabebuia impetiginosa (90 to 70%) and Aspidosperma pyrifolium (90 to 43%), respectively. In general, environmental temperature storage up to 15 months and -20 and -196 ºC storage were efficient to preserve seed germinability of many dry forest tree species from Paranã river basin. These are feasible options to ex situ conservation and to increase germination for direct seeding strategies of restoration.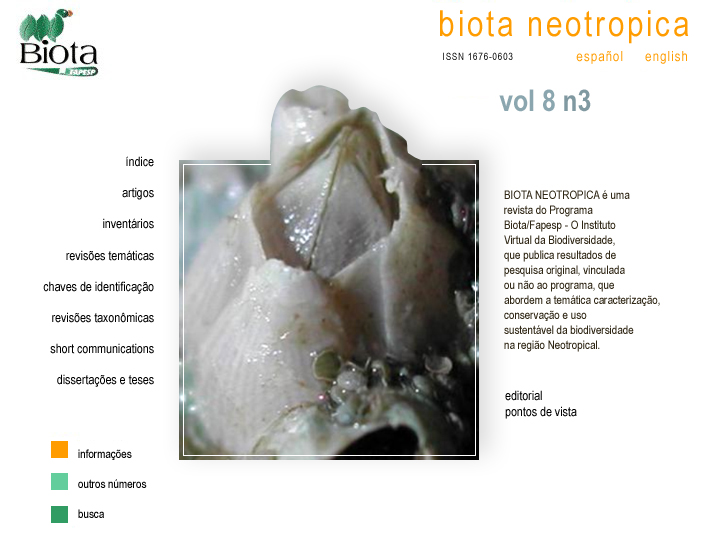 How to Cite
Lima, V. V. F. de, Vieira, D. L. M., Sevilha, A. C., & Salomão, A. N. (2008). Germination of tropical dry forest tree species of Paranã river basin, Goiás state, after three types of storage and up to 15 months. Biota Neotropica, 8(3). Retrieved from //www.biotaneotropica.org.br/BN/article/view/420