Cirripedia Balanomorpha of Paripe River estuary (Itamaracá Island, Pernambuco, Brazil)
Keywords:
Barnacle, estuary, distribution, tropical mangroves
Abstract
Barnacles are animals characteristic and abundant of intertidal region on marine and estuarine environments worldwide, but they are little known in the areas of tropical mangroves. This study was done with the aim to know the barnacles' species of the estuary of the Paripe River (Pernambuco, Brazil), indicating some characteristics of its distribution throughout the estuary. In dry season of 2006, the animals were collected in three stations of the estuary, in all hard substrata available, observing their vertical distribution. In polihaline station (salinities varying from 28.7 to 36.1), it was found eight species: Amphibalanus amphitrite, A. improvisus, A. reticulatus, A. venustus, Chthamalus proteus, C. bisinuatus, Microeuraphia rhizophorae and Striatobalanus amaryllis. The species classified as euryhaline, found until the mesohaline region of the estuary (salinities varying from 10.8 to 19.6) were: Amphibalanus amphitrite, A. improvisus, A. reticulatus, Chthamalus proteus and Microeuraphia rhizophorae, whereas in the oligohaline region (salinities varying from 0.2 to 5.2), only M. rhizophorae was present, being classified as estuarine component. A horizontal zonation of species of barnacles was clearly observed from the mouth until the upstream, with gradual decrease of number of species and it was confirmed their pattern of vertical distribution in relation to the height of tides, according with its respective ecological valences. The introduced exotic species in Brazil, Amphibalanus reticulatus and Striatobalanus amaryllis, were well adapted on natural and artificial substrata of the estuary.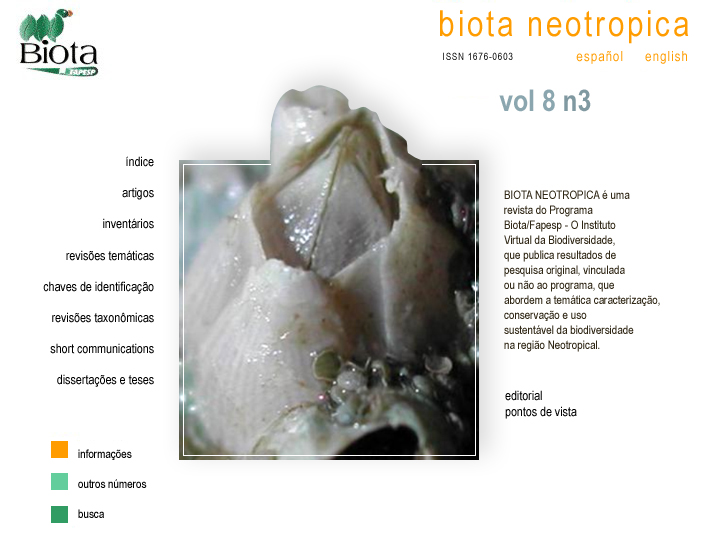 How to Cite
Farrapeira, C. M. R. (2008). Cirripedia Balanomorpha of Paripe River estuary (Itamaracá Island, Pernambuco, Brazil). Biota Neotropica, 8(3). Retrieved from //www.biotaneotropica.org.br/BN/article/view/414