Current state of knowledge on Espírito Santo mammals based on museum records and published data
Keywords:
Atlantic Forest, data bank, Mammalia, species list
Abstract
The state of Espírito Santo has been recognized as one of the richest Brazilian states in terms of species diversity, but the knowledge on its mammal fauna is still limited. Due to the lack of a complete list of wild mammals occurring in the state and to the scarcity of information associated to species records, we carried out a study on the state of scientific knowledge on mammal species in the state of Espírito Santo. We compiled a digital database with locality records of mammal species from published data and museum specimens. We used the software DIVA to verify where efforts for recording mammals are located and also where species richness is higher. As a result, we generated a list of 138 Espírito Santo mammals, which includes threatened animals and Atlantic Forest endemic species, and two species typical of the Cerrado. We found regions that are knowledge gaps, especially in the northern part of the state. There have been more mammal surveys in the micro regions "Central Serrana" and "Pólo Linhares". The list of mammal species is a guideline for future research, even though it is not exhaustive. We recommend conducting faunal surveys focusing on larger geographic areas and intensive sampling efforts, mainly in those regions where information is scarce.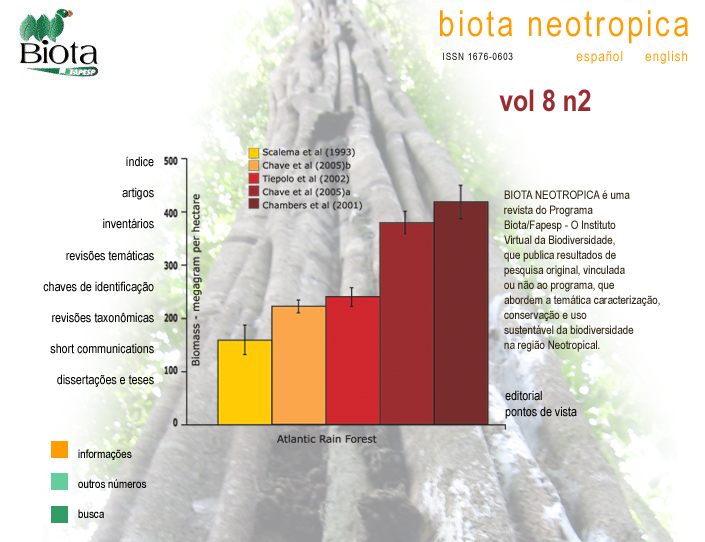 How to Cite
Moreira, D. de O., Coutinho, B. R., & Mendes, S. L. (2008). Current state of knowledge on Espírito Santo mammals based on museum records and published data. Biota Neotropica, 8(2). Retrieved from https://www.biotaneotropica.org.br/BN/article/view/405