Gastric lesions associated with the presence of Anisakis spp. Dujardin, 1845 (Nematoda: Anisakidae) in Cetaceans stranded on the coast of Ceara, Brazil
Keywords:
Anisakis sp, nematodes, ulcers, pathology, marine mammals, cetaceans, stranding
Abstract
The gastric compartments of ten cetaceans stranded on the coast of Ceará State, Northeast Brazil were analyzed in this study. Gastric Anisakis spp. was diagnosed in all individuals involved in this study. Parasites and tissue samples were collected during necropsy. The presence of Anisakis parasites showed similar distribution across the three gastric compartments and the majority was free within the gastric lumen. Macroscopically, the lesions were predominantly characterized by the presence of ulcers (60%, 6/10) within the gastric mucosa, occasionally associated with edema and hemorrhage (30%, 3/10). Eight cetaceans (8/10 - 80%) presented gastric microscopic alterations and in 75% (6/8) of these animals, chronic lymphoplasmocytic gastritis was observed with varying degrees of distribution and severity. Additionally, eosinophilic and granulomatous inflammation with giant cells, hemosiderosis, fibrosis and areas of necrosis were associated with location of parasites within the gastric mucosa. In this study, it was shown that the majority of cetaceans with the presence of Anisakis parasites presented macro and microscopic gastric alterations. These nematodes are probably associated with the development of these alterations; however, more pathological approaches are still required.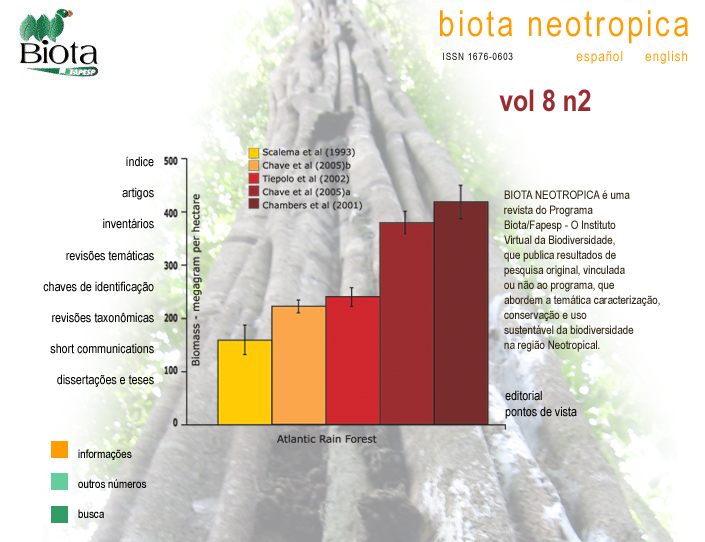 How to Cite
Motta, M. R. A., Pinheiro, D. C. S. N., Carvalho, V. L., Viana, D. de A., Vicente, A. C. P., & Iñiguez, A. M. (2008). Gastric lesions associated with the presence of Anisakis spp. Dujardin, 1845 (Nematoda: Anisakidae) in Cetaceans stranded on the coast of Ceara, Brazil. Biota Neotropica, 8(2). Retrieved from https://www.biotaneotropica.org.br/BN/article/view/398