Cryptosporidiosis: a review about its implication in conservation of aquatic mammals
Keywords:
aquatic animals, epidemiology, zoonosis, Cryptosporidium
Abstract
Cryptosporidiosis is an emerging parasitic disease that has been related in several mammal species, including the aquatic ones. This review covers the epidemiology infection by Cryptosporidium spp. in aquatic mammals. The age of the animal, infecting dose and immunological state can influence on the clinical presentation, and when associated with other pathogen, can lead the animal to death. The water supply contamination is water supply is one of the major ways of the pathogen dissemination, which was being identified by different techniques of laboratorial analysis. The adequacy of sanitation structures, the use of appropriate method to inactivate the oocysts and the assurance of personal hygiene norms are some of the recommended way to minimize the dissemination of Cryptosporidium among aquatic mammals.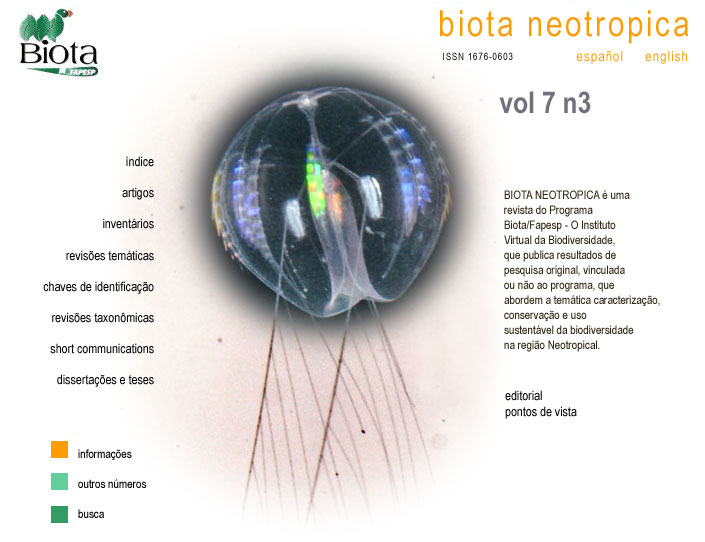 How to Cite
Borges, J. C. G., Alves, L. C., & Faustino, M. A. da G. (2007). Cryptosporidiosis: a review about its implication in conservation of aquatic mammals. Biota Neotropica, 7(3). Retrieved from https://www.biotaneotropica.org.br/BN/article/view/349