Notes on the occurrence of Tityus serrulatus Lutz & Mello, 1922 (Scorpiones, Buthidae) in the Western areas of Rio Grande do Sul, Brazil
Keywords:
Tityus serrulatus, yellow scorpion, distribution, Rio Grande do Sul
Abstract
The yellow scorpion Tityus serrulatus is recorded for the first time for the western Rio Grande do Sul State, Brazil. Two specimens were collected in the municipality of Uruguaiana (29° 45' 23'' S and 57° 05' 37'' W) in june 2006. The occurrence of specimens of T. serrulatus in Rio Grande do Sul represents an increase of 2127km in relation to his known distribution area.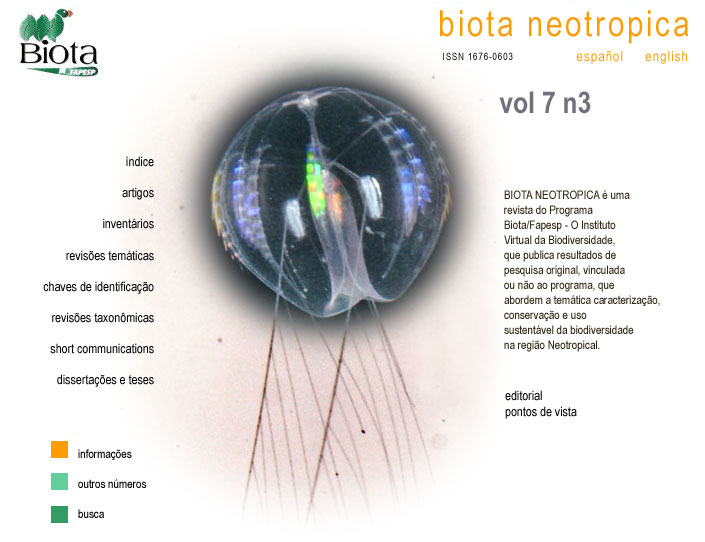 How to Cite
Bortoluzzi, L. R., Querol, M. V. M., & Querol, E. (2007). Notes on the occurrence of Tityus serrulatus Lutz & Mello, 1922 (Scorpiones, Buthidae) in the Western areas of Rio Grande do Sul, Brazil. Biota Neotropica, 7(3). Retrieved from //www.biotaneotropica.org.br/BN/article/view/340
Section
Short Communications