Litterfall in natural and reforested gallery forests along the upper São Francisco river, Minas Gerais
Keywords:
gallery forest, reforestation, São Francisco river basin, rehabilitation of degraded areas, environmental conservation
Abstract
Two tracts of gallery vegetation in the upper Rio São Francisco, Minas Gerais, were studied aiming to verify differences in litterfall. Litter was collected from September 2001 to August 2002, using ten 0.25 m² sized litter traps in each tract. Results demonstrated an elevated litterfall in both forest tracts, and that leaves predominated over branches and reproductive structures. The native forest displayed a seasonal pattern of leaf litterfall, while the reforested tract showed no such seasonal pattern for leaf litterfall. The results obtained in this study are in accordance with the values obtained in other studies conducted in forests located on tropical fluvial floodplains. The large differences in the periods of greatest litterfall production between the native forest and the reforested area appear to reflect the flora composition and the stage of succession of the species present in the tracts of vegetation studied.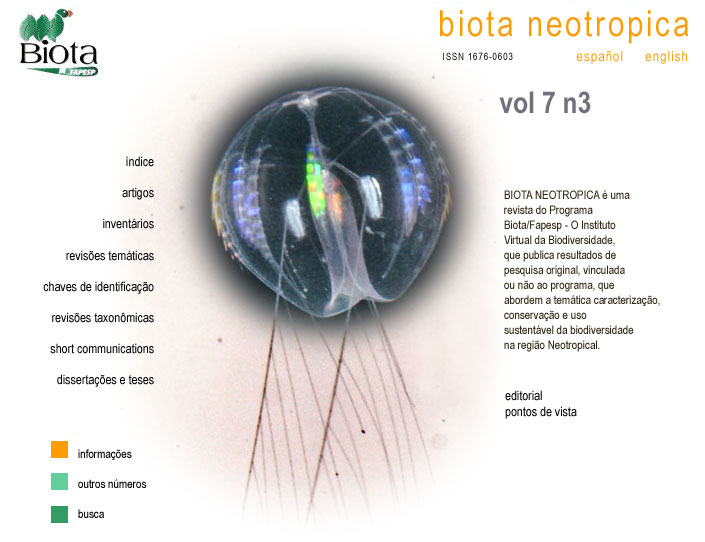 How to Cite
Nunes, F. P., & Pinto, M. T. C. (2007). Litterfall in natural and reforested gallery forests along the upper São Francisco river, Minas Gerais. Biota Neotropica, 7(3). Retrieved from https://www.biotaneotropica.org.br/BN/article/view/322