The genus Zygothrica Wiedemann 1830 (Diptera, Drosophilidae) in Santa Catarina state, southern Brazil: distribution and ecological notes
Keywords:
Neotropics, new records, species distribution
Abstract
The present paper brings together survey data from nine collection sites in Santa Catarina state, southern Brazil. Samples were obtained during about four years in forested, coastal and urban areas. Flies were attracted by fermented banana baits and captured in traps. Among the species of the genus Zygothrica Wiedemann 1830 collected, Zygothrica apopoeyi Burla 1956, Z. bilineata (Williston 1896), Z. dispar (Wiedemann 1830), Z./ lanceolata Burla 1956, Z. nigropleura Grimaldi 1987, and Z. poeyi (Sturtevant 1921) were recorded for the first time in Santa Catarina state and, except for Z. bilineata, also in southern Brazil. Apart from these species, we also collected Zygothrica hypandriata Burla 1956, Z. orbitalis (Sturtevant 1916) (as Z. parilis), Z. prodispar Duda 1925 and Z. vittimaculosa Burla 1956. Except for Z. bilineata and Z. hypandriata, these are the new southernmost records for the geographical distribution of these species. All the collected species were represented by few individuals, probably as a consequence of the collection method, and most of them was captured in winters and springs. Five species were restricted to the more preserved studied site, and most individuals were collected in forest sites. Nevertheless, four species were also captured in urban or xeric environments, indicating a higher tolerance and a wider ecological versatility in this genus as compared to what was previously thought, at least for some species.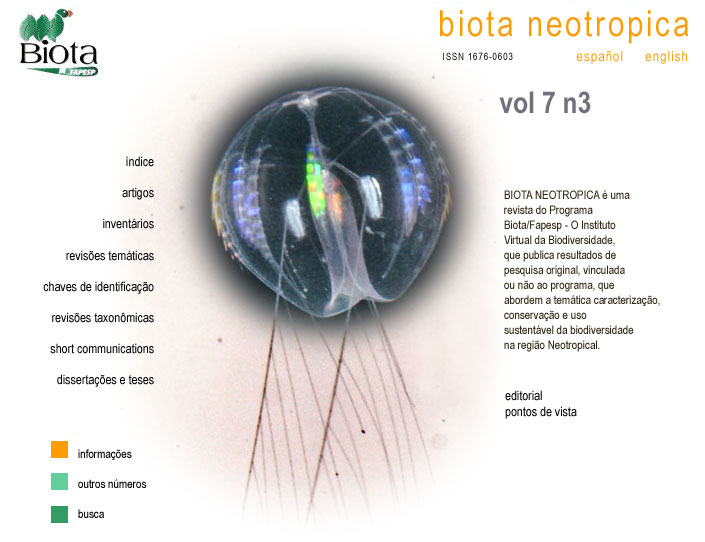 How to Cite
Döge, J. da S., Gottschalk, M. S., Bizzo, L. E. M., Oliveira, S. C. F. de, Schmitz, H. J., Valente, V. L. da S., & Hofmann, P. R. P. (2007). The genus Zygothrica Wiedemann 1830 (Diptera, Drosophilidae) in Santa Catarina state, southern Brazil: distribution and ecological notes. Biota Neotropica, 7(3). Retrieved from https://www.biotaneotropica.org.br/BN/article/view/317