Description and distribution of the larvae of two species of Fistulariidae (Teleostei, Syngnathiformes) in the southeastern Brazil
Keywords:
Fistularia petimba, Fistularia tabacaria, distribution, fish larvae, southeastern brazilian coast
Abstract
Fistulariidae contains the single genus, Fistularia, with four species. Two of these species are recorded from Brazil: Fistularia petimba and F. tabacaria. This study describes larvae of these two species of Fistularia, recording their distribution along the southeastern Brazilian coast, which is limited in the north by Real River (12° S) and in the south by São Tomé Cape (22° S). Samples were collected using a bongo net with mesh apertures of 330 and 500 µm during three oceanographic cruises conducted on spring/98 (Central III), winter/99 (Bahia 1) and autumn/00 (Central IV). The net was towed obliquely and the maximum depth was 200 m. Larvae of F. petimba were the most abundant and most widely distributed within the study area, including the seamounts of the Vitória-Trindade Ridge. Larvae of F. tabacaria were recorded only between 14° S and 21° S.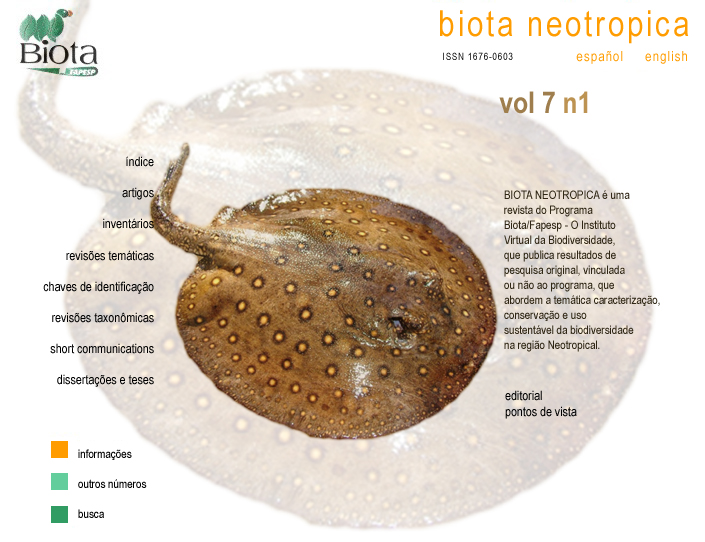 How to Cite
Barros, F. B. A. G. de, Castro, M. S. de, & Bonecker, A. C. T. (2007). Description and distribution of the larvae of two species of Fistulariidae (Teleostei, Syngnathiformes) in the southeastern Brazil. Biota Neotropica, 7(1). Retrieved from https://www.biotaneotropica.org.br/BN/article/view/258