Correlations between morphological fruit types, fruit and seed colors, and functional groups
Keywords:
Morphological fruit type, fruit color, fruit phenology, functional group, plant life form, successional stage
Abstract
Abstract: The associations between morphological fruit types, fruit and seed colors, and functional plant traits: life forms, epiphytism, physiology, nutritional relationships, fruit phenology, and successional stage, were determined for 1,139 plant species from contrasting plant communities. Texture and dehiscence were closely related. Dehiscence is largely associated with dry tissues; indehiscence, however, is an attribute of both dry and fleshy fruits. The number of morphological fruit types was 28 or 55 for Gray's and Spjut's classifications, respectively. Fruits were predominantly dark in color (brown, purple-black, black or green), whilst seeds had both dark and light colors (brown, beige, or black). The most representative associations were mainly found between the more abundant fruit types and the colors most common. Asymmetries in the level of specialization, whereby less common fruit and seed colors tended to be associated with the most common fruit types, were also found. Fleshy fruits showed more variation as regards their coloration, and only drupes and berries showed a tendency towards a specific color: purple-black. The relationships among fruit type and color, seed color, and functional plant traits revealed the following trends: trees produced both fleshy and dry fruits; shrubs produced fleshy fruits; and herbaceous species, dry fruits. Woody species tended to have dark or bright colors, depending on their seed dispersal mechanisms and phylogenetic relations. Epiphytes were associated with dry-dehiscent fruits and brown seeds, and parasitic-hemiparasitic species had predominantly fleshy-indehiscent fruits. Pioneer species were more likely to have dry fruits, whereas fleshy fruits tended to be more frequent in late successional stage species. The C4 species, mostly herbs, had mainly one-seeded dry fruits, but multi-seeded fruits in succulent-CAM species showed morphologically diverse fruit types. Unripe and ripe fruits showed seasonal changes, especially during the rainy-dry transition period for the most abundant morphological fruit types, dry fruits during the dry period and fleshy fruited species was positively associated with the rainy season. All these trends are discussed with regard to their environmental significance and the relationships between fruit morphology, colors and functional groups. .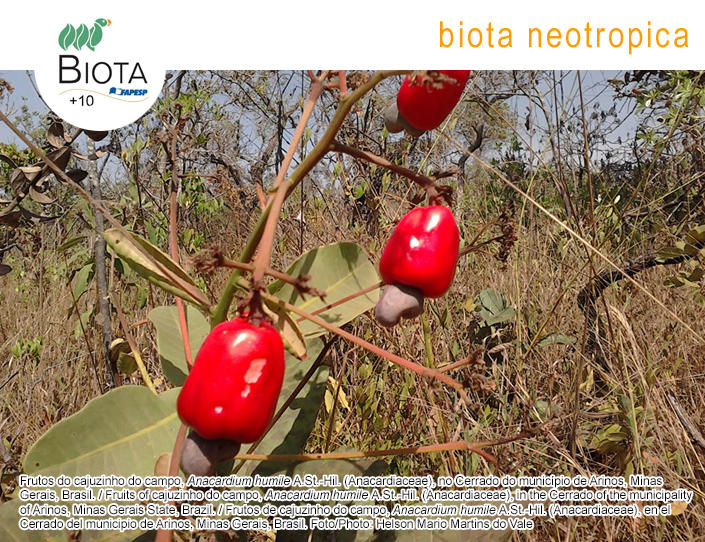 How to Cite
Ramírez, N., Barrios, Y., & Briceño, H. (2021). Correlations between morphological fruit types, fruit and seed colors, and functional groups. Biota Neotropica, 21(4). Retrieved from //www.biotaneotropica.org.br/BN/article/view/1861