Terrestrial Gastropoda from the caves of Presidente Olegário, southeastern Brazil
Keywords:
Minas Gerais, Neritimorpha, Stylommatophora, stygofauna, troglofauna
Abstract
Abstract: Samples of terrestrial gastropods were collected year-round in seven caves in Presidente Olegário municipality, Minas Gerais state, southeastern Brazil, during several expeditions from 2012 to 2014. Twenty-four taxa (plus a single freshwater species), mainly stylommatophorans, were found in the material. The following species are reported for the first time for Minas Gerais state: Alcadia iheringi Wagner, 1910 and Helicina sordida King, 1831 (Helicinidae); Cecilioides consobrina (d'Orbigny, 1841) (Ferussaciidae); Entodina gionensis Morretes, 1940 and Scolodonta interrupta (Suter, 1900) (Scolodontidae); Megalobulimus sanctipauli (Ihering & Pilsbry, 1900) (Strophocheilidae); Drymaeus coarctatus (Pfeiffer, 1845) (Bulimulidae); Habroconus semenlini (Moricand, 1846) (Euconulidae); and Solaropsis aff. rosaria (Pfeiffer, 1849) (Solaropsidae). Furthermore, the species Drymaeus iracema (Simone, 2015) and Drymaeus terreus (Simone, 2015) are synonymized with Drymaeus coarctatus (L. Pfeiffer, 1845).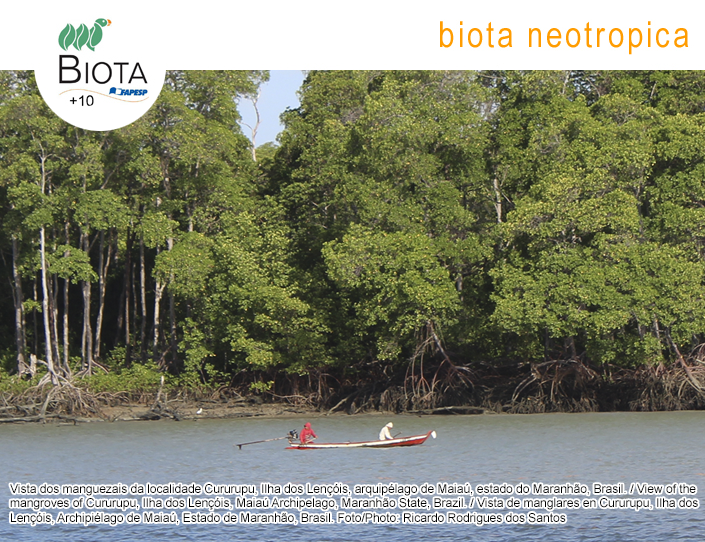 How to Cite
Salvador, R. B., Silva, F. S., Cavallari, D. C., & Simone, L. R. L. (2021). Terrestrial Gastropoda from the caves of Presidente Olegário, southeastern Brazil. Biota Neotropica, 21(2). Retrieved from //www.biotaneotropica.org.br/BN/article/view/1811