Population structure of the shrimp Palaemon pandaliformis (Stimpson, 1871) (Caridea: Palaemonidae) in the river Rio Itapemirim, in Southeastern Brazil
Keywords:
freshwater prawns, population dynamics, sex ratio, reproductive period
Abstract
Abstract The present study analyzes the population structure of Palaemon pandaliformis, based on sex ratio, the frequency distribution in defined size classes and the reproductive biology of samples captured in seasonal collections (winter 2011 to autumn 2012) with sieves under marginal vegetation. A total of 1,043 specimens were obtained, 222 juveniles, 465 males and 356 females, being that of this total of females, 58.42% were in the ovigerous condition. The average size of the carapace for both sexes varied between 4 and 6 mm (p> 0.05) only the ovigerous females had higher averages (p <0.0001). The sex ratio differed with 1:0.76 for males (p = 0.0001), although juvenile individuals and females were present in all sampled periods, except ovigerous females in autumn. Highest abundances were observed during the winter and spring period (p = 0.0001), decreasing in the periods with higher water temperature and salinity (summer and autumn). Was observed a continuous recruitment due to the presence of juveniles in all seasons, with greater abundance in winter and spring. Thus, based on the presence of ovigerous females in almost all seasons and juveniles in all, the reproduction for P. pandaliformis can be defined as seasonal-continuous with peak in winter period.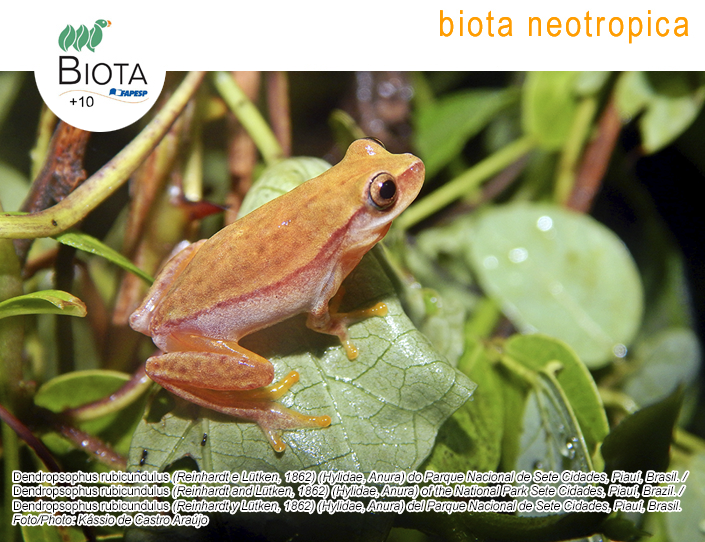 How to Cite
Laino, P. de S., Musiello-Fernandes, J., & Braga, A. A. (2020). Population structure of the shrimp Palaemon pandaliformis (Stimpson, 1871) (Caridea: Palaemonidae) in the river Rio Itapemirim, in Southeastern Brazil. Biota Neotropica, 20(4). Retrieved from //www.biotaneotropica.org.br/BN/article/view/1770