An inventory of Ichthyofauna of the Pindaré River drainage, Mearim River basin, Northeastern Brazil
Keywords:
Amazônia Legal, Endemic species, Ichthyology, Maranhão, Neotropical Region, Species list
Abstract
Abstract: In the present work, we conducted an extensive long-lasting inventory of the fishes, using different collection methodologies, covering almost the entire Pindaré River drainage, one of the principal tributaries of the Mearim River basin, an area included in the Amazônia Legal region, northeastern Brazil. We reported 101 species, just three of them being non-native, demonstrating that the composition of this studied fish community is majority composed of native species. We found a predominance of species of the orders Characiformes and Siluriformes, corroborating the pattern usually found for the Neotropical fish fauna. Similar to other studies, this inventory was mainly dominated by small characids, representing 21% of the species herein recorded. When comparing the present survey with other species lists published for this region (including the States of Maranhão and Piaui), we can conclude that the freshwater fish fauna of the State of Maranhão is probably still underestimated. We reported 41 more species, and one more species than Soares (2005, 2013) and Abreu et al. (2019) recorded for the entire Mearim River basin, respectively. We believe, however, that the number of species presented by Abreu et al. (2019) is overestimated. We compared our results with all other freshwater fish species inventories performed for the hydrological units Maranhão and Parnaíba sensu Hubbert & Renno (2006). With these comparisons, we concluded that our results evidenced that a high effort was put in the inventory here presented. The two works including more species recorded from coastal river basins of the hydrological units Maranhão and Parnaíba were the works published by Ramos et al. (2014) for the Parnaíba River basin, one of the main and larger river basin of Brazil, and the compiled data published by Castro & Dourado (2011) for the Mearim, Pindaré, Pericumã, and upper Turiaçu River drainages, including 146 and 109 species, respectively. Our survey recorded only 45 less species than Ramos et al. (2014), and eight less species than Castro & Dourado (2011). However, it is essential to emphasize that the number of species presented by Castro & Dourado (2011) is probably overestimated since they did not update and check the taxonomic status of the species of their compiled data. In several cases, they considered more than one name for the same species.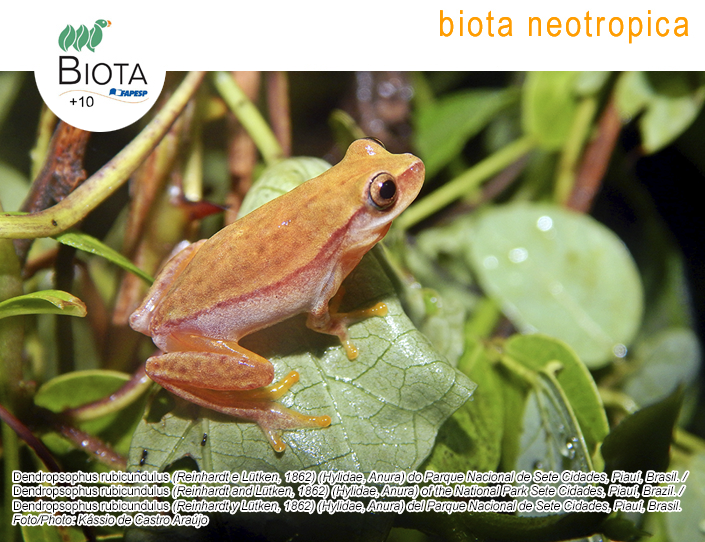 How to Cite
Guimarães, E. C., Brito, P. S. de, Gonçalves, C. S., & Ottoni, F. P. (2020). An inventory of Ichthyofauna of the Pindaré River drainage, Mearim River basin, Northeastern Brazil. Biota Neotropica, 20(4). Retrieved from https://www.biotaneotropica.org.br/BN/article/view/1762