The role of spatial and environmental variables in shaping aquatic insect assemblages in two protected areas in the transition area between Cerrado and Amazônia
Keywords:
Biogeography, Conservation units, EPT, Stream ecology
Abstract
Abstract: The distribution of aquatic insects of the orders Ephemeroptera, Plecoptera, and Trichoptera (EPT) can be influenced by factors such as water quality, habitat integrity and biogeography. The present study evaluated the structure of EPT assemblages in streams in the Cerrado, a global biodiversity hotspot. Samples were collected from 20 streams in two protected areas: Parque Estadual do Mirador (10 streams) and Parque Nacional da Chapada das Mesas (10 streams). A total of 1987 specimens were collected, representing 46 taxa of EPT. The two study areas did not differ significantly in taxonomic richness of EPT genera (t = -1.119, p = 0.279) and abundance of individuals (t = 0.268, p = 0.791) but did differ in genus composition (Pseudo-F = 2.088, R2 = 0.103, p = 0.015) and environmental variables (Pseudo-F = 2,282, R2 = 0.112, p = 0.014). None of the tested environmental variables were correlated with the community but a spatial filter captured an effect of the spatial distribution of streams. The region of the study is located in MATOPIBA, which is the last agricultural frontier of the Cerrado. Therefore, it is important that there is police and monitoring so that the "Parque Estadual do Mirador" and the "Parque Nacional da Chapada das Mesas" continue to play their role in conserving biodiversity in the future.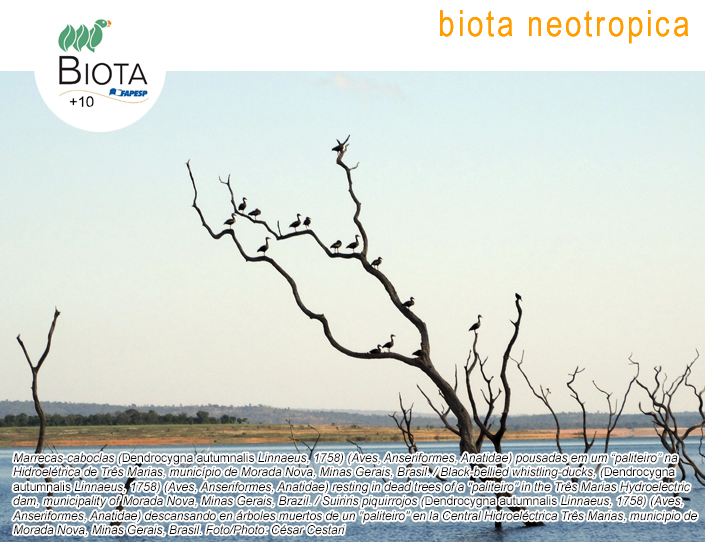 How to Cite
Barbosa, D. de A., Brasil, L. S., Azevêdo, C. A. S. de, & Lima, L. R. C. (2020). The role of spatial and environmental variables in shaping aquatic insect assemblages in two protected areas in the transition area between Cerrado and Amazônia. Biota Neotropica, 20(3). Retrieved from https://www.biotaneotropica.org.br/BN/article/view/1733