Taxonomic diversity of Biomphalaria (Planorbidae) in São Paulo state, Brazil
Keywords:
COI, DNA Barcoding, Morphology, Schistosomiasis, Intermediate Host Snail
Abstract
Abstract: Morphological and molecular identifications were carried out for Biomphalaria occidentalis, Biomphalaria oligoza, Biomphalaria peregrina, Biomphalaria schrammi, Biomphalaria straminea and Biomphalaria tenagophila collected from 55 sites located along the upper basin of Tietê River in the Southeast Region of Brazil. Morphological analysis considered aspects of the shell, mantle, excretory organs and reproductive system. Molecular data included 122 sequences of Cytochrome C Oxidase I gene (COI). Our results showed that some shell characters, as well as other characters related to the mantle and the reproductive system, are fundamental for the identification of the six Biomphalaria species included in this study. The use of DNA barcoding together with morphological taxonomy generated more reliable results, proving to be a very useful approach, even for malacological surveillance services.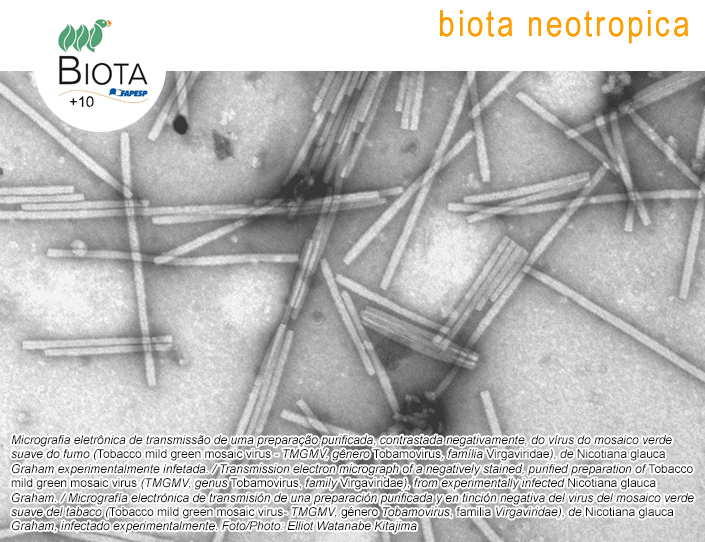 How to Cite
Ohlweiler, F. P., Rossignoli, T. de J., Palasio, R. G. S., & Tuan, R. (2020). Taxonomic diversity of Biomphalaria (Planorbidae) in São Paulo state, Brazil. Biota Neotropica, 20(2). Retrieved from //www.biotaneotropica.org.br/BN/article/view/1724