Morphometric characterization of Dinophysis acuminata/D. sacculus complex in Guanabara Bay, Brazil
Keywords:
dinoflagellates, Dinophysis acuminata, Dinophysis sacculus, eutrophic marine ecosystem, South Atlantic Central Water
Abstract
Abstract: Most studies of Dinophysis acuminata in Brazil are for the southern region, where blooms are recurrent. In 2016, the presence of D. acuminata caused the first-ever production and consumption of species of mollusks commercial embargo from the state of Sao Paulo, Southeast Brazil. Potentially toxic species of Dinophysis have been reported in Guanabara Bay (GB) but only occasionally and in low densities. The present note is the first report of a high-density event (~105 cells L-1) of D. acuminata/D. sacculus complex in GB. D. acuminata/D. sacculus complex species were identified using scanning-electron and inverted-light microscopy. Most of the studied cells possessed a dorsally convex hyposomal plate and had dimensions typical of D. acuminata. However, the observed association with warmer and less saline estuarine waters would indicate that the species could be D. sacculus. Whatever the case, based on the high cell densities observed here, we recommend a continued monitoring for Dinophysis presence in GB.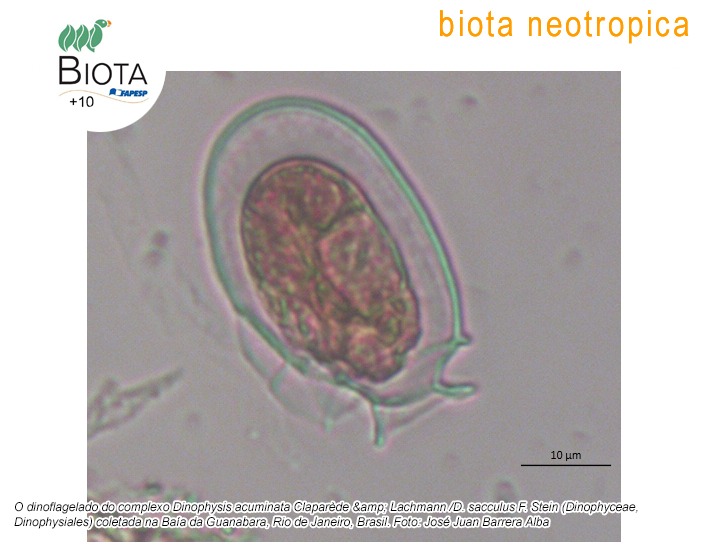 How to Cite
Barrera-Alba, J. J., Piedras, F. R., Duarte, C. L., Lopes, R. N. T., & Moser, G. A. O. (2019). Morphometric characterization of Dinophysis acuminata/D. sacculus complex in Guanabara Bay, Brazil. Biota Neotropica, 19(3). Retrieved from //www.biotaneotropica.org.br/BN/article/view/1660
Section
Short Communications