Quadrigyrus torquatus cystacants Van Cleave, 1920 (Acanthocephala: Quadrigyridae) parasitizing species of Astyanax (Characiformes: Characidae) from southern Brazil
Keywords:
Acanthocephalan, helminths, endoparasite, taxonomy, Neotropical region
Abstract
Abstract: The acanthocephalan species Quadrigyrus torquatus Van Cleave, 1920 has been found in different hosts from South America, but recent papers have not focused on its morphology traits. Different species of Astyanax Baird & Girard, 1854 were collected with seine nets between January 2017 and October 2017 in Pintada Island, Lake Guaíba, Porto Alegre city (30º17'11''S and 51º18'01"W), Rio Grande do Sul State, Brazil. Acanthocephalans found in cysts were processed according to the techniques for the group. Specimens of Q. torquatus were identified based mainly in the morphology of proboscis hooks and trunk spines, and by the measurements made using light microscopy. Supplemental observations on the morphology of Q. torquatus were made for the first time considering the morphology and amount of hooks and spines. The amplitude of intensity of infections was 1 (A. aff. fasciatus) and 1‒3 (A. lacustris) helminths. This difference could be related to the number of hosts examined, the feeding habit of the hosts or related to aspects in the parasite life cycle. This paper is the first report of Q. torquatus in A. aff. fasciatus and A. lacustris from Lake Guaíba, extending the distribution to the southernmost state of Brazil, thus contributing to the knowledge of acanthocephalans in freshwater fishes from South America.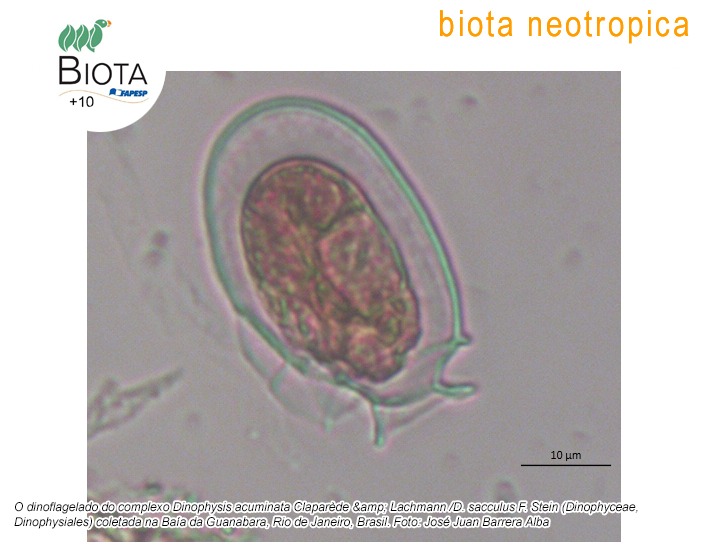 How to Cite
Gallas, M., & Utz, L. R. P. (2019). Quadrigyrus torquatus cystacants Van Cleave, 1920 (Acanthocephala: Quadrigyridae) parasitizing species of Astyanax (Characiformes: Characidae) from southern Brazil. Biota Neotropica, 19(3). Retrieved from //www.biotaneotropica.org.br/BN/article/view/1647