News from the west: the orchid bees from Parque Nacional do Iguaçu, Paraná, Brazil (Hymenoptera, Apidae, Euglossina)
Keywords:
inventory, species list, Iguazu, Euglossini, Seasonal Semideciduous Forest, Atlantic forest
Abstract
Abstract: Orchid bees were surveyed at Parque Nacional do Iguaçu, the largest remnant of Seasonal Semideciduous Forest in Brazil. Seven species were collected, and Eufriesea violacea (Blanchard) was the most common species, followed by Euglossa annectans Dressler. The observed species richness and species composition agree with what is known for the local euglossine faunas in fragments of Seasonal Semideciduous Forest of southern and southeastern Brazil. On the other hand, the abundance of individuals was remarkably low. The occurrence of a severe winter in 2013 and the collection of several males in other fragments suggest that this noteworthy low abundance can be fortuitous.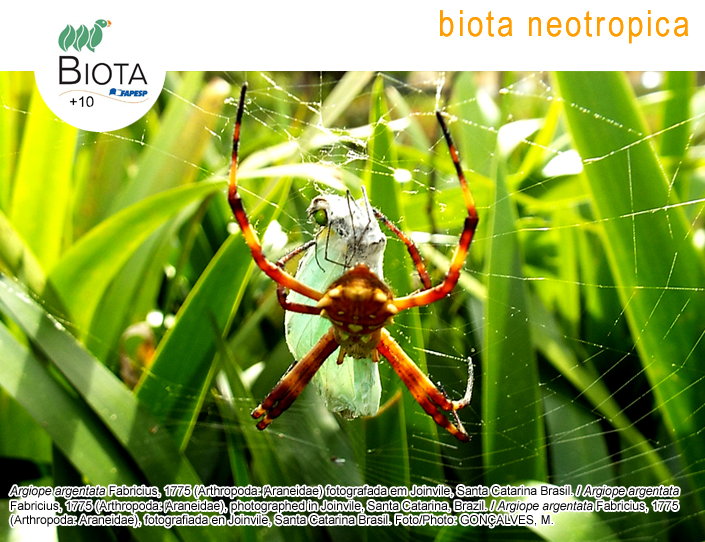 How to Cite
Faria, L. R. R., Neves, B. C., Arce, A. J., Hirschfeld, M. N. C., & Zanella, F. C. V. (2019). News from the west: the orchid bees from Parque Nacional do Iguaçu, Paraná, Brazil (Hymenoptera, Apidae, Euglossina). Biota Neotropica, 19(2). Retrieved from //www.biotaneotropica.org.br/BN/article/view/1632