Treehopper (Membracidae, Auchenorrhyncha) assemblages in four semi-arid areas of caatinga of Northeast Brazil
Keywords:
biodiversity, Neotropical Region, host plants, treehoppers
Abstract
Abstract Treehopper assemblages were sampled in four semi-arid areas of caatinga in Northeast Brazil during the rainy seasons of 2016 and 2017, using three different capture methods. The areas are located in two Ecoregions of the Caatinga: "Depressão Sertaneja Setentrional" (Northern Sertaneja Depression) and "Planalto da Borborema" (Borborema Plateau). A total of 2,394 individuals of 43 species were sampled, corresponding to approximately 87% of the mean estimated species richness for all four areas. The species richness varied among the areas from 14 to 21, while the abundance of individuals ranged from 129 to 1860. Eighteen species were shared among areas, of which only Enchenopa eunicea, Sundarion sp. 1, Ceresa vitulus and Erosne parvula occurred in all four due to the general behavior of the first three and the wide distribution of host plant of Erosne parvula - Mimosa tenuiflora. Twenty-five species occurred only in one area, of which 23 were categorized as rare with a maximum of eight individuals sampled, and seven with only one individual collected (singletons). Considering that the Caatinga Domain possesses at least nine Ecoregions with different climates, geomorphology and vegetation, along with marked endemism of plants, it is expected that the species richness of treehoppers will increase substantially on a regional scale.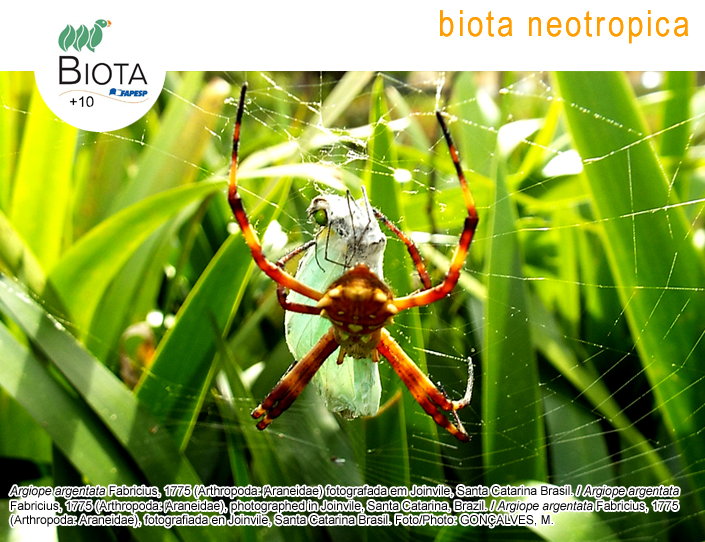 How to Cite
Rotheá, R. R. A. D., Lourenço, A., Vasconcellos, A., & Creão-Duarte, A. J. (2019). Treehopper (Membracidae, Auchenorrhyncha) assemblages in four semi-arid areas of caatinga of Northeast Brazil. Biota Neotropica, 19(2). Retrieved from //www.biotaneotropica.org.br/BN/article/view/1620