Aspects of arbuscular mycorrhizal fungi in an atlantic forest chronosequence parque estadual turístico do Alto Ribeira (petar), SP
Keywords:
secondary succession, Atlantic Forest, tropical calcareous soil, arbuscular mycorrhizal fungi (AMF), Piptadenia gonoacantha
Abstract
Mycorrhizal colonization was assessed in roots of trees within an Atlantic Forest chronosequence, located in the southeastern of São Paulo State, Brazil, inside Tourist State Park of the High Ribeira Valley (PETAR). The phytosociological survey was carried out in three adjacent areas, all on calcareous soil, which correspond to different time intervals during which they have been left abandoned following a slash-and-burn agricultural perturbation. Early Phase (EP) with 15 years; Mid Phase (MP) with 25 years; and Late Phase (LP) with more than 36 years without clear-cut. The inventory indicated a continuum of tree species substitution, which is dominated by species of Leguminosae, especially Piptadenia gonoacantha (Mart.) J.F. Macbr. (Mimosoideae) in the earlier successional phases. Mycorrhizal colonization, estimated by the occurrence of the mycorrhizal structures in the tree species roots, diminished during the season with less rain (winter), and showed no significant differences between successional phases in the wet season (summer). Rather, the mycorrhizal colonization was correlated with occurrence of the tree's successional status: being positively correlated with occurrence of pioneer species, and negatively correlated with late secondary species. Mycorrhizal colonization was also correlated negatively with soil organic matter and base saturation. Twenty five species of arbuscular mycorrhizal fungi belonging to four genera were identified. Six species were only identified to generic level. The species Glomus etunicatum Becker & Gerd. represented 10% of the total number of spores and occurred in all phases and seasons, while the genus Glomus represented 57% of the total of spores found in the rhizosphere. The diversity indices evaluated for the mycohrriza community were: H' = 2.3, J' = 0.97 and R = 4.12. These results are a contribution to the knowledge of The Atlantic Forest biodiversity and may have implications to support programs regarding rehabilitation of degraded vegetation in one of the World's most threatened Biomes.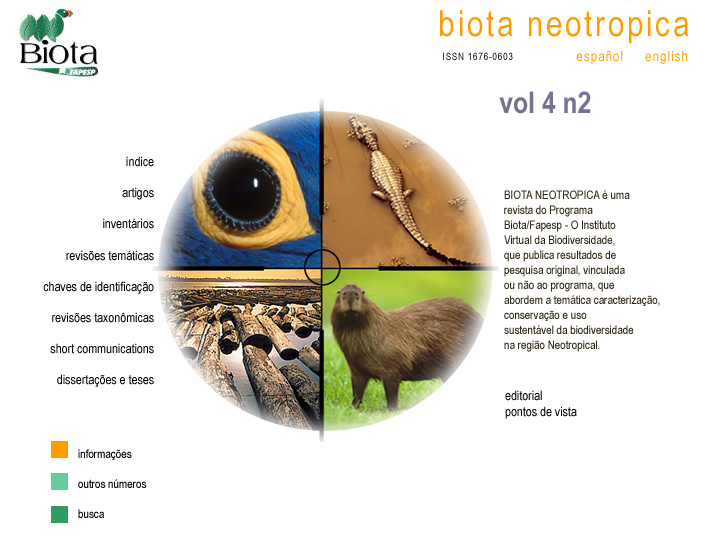 How to Cite
Aidar, M. P., Carrenho, R., & Joly, C. A. (2004). Aspects of arbuscular mycorrhizal fungi in an atlantic forest chronosequence parque estadual turístico do Alto Ribeira (petar), SP. Biota Neotropica, 4(2). Retrieved from https://www.biotaneotropica.org.br/BN/article/view/1554