Bats of the Serra da Bocaina National Park, southeastern Brazil: an updated species list and a distribution extension for Trinycteris nicefori (Sanborn, 1949)
Keywords:
Atlantic Forest, Chiroptera, faunistic inventory, species richness
Abstract
Abstract: The Serra da Bocaina National Park (SBNP) is a large remnant of Atlantic Forest located within an endangered biodiversity hotspot, which contributes to the connectivity among protected areas in the region. Despite the ecological importance of the SBNP, its bat fauna is poorly-known, and no comprehensive inventory is available. The present study provides an updated list of the bat species found in the SBNP. The four-year study was based on a capture-mark-recapture approach at four sites within the park, in the municipality of Paraty, Rio de Janeiro state, Brazil. A total of 22 bat species were recorded, representing two families, Phyllostomidae (n = 19 species) and Vespertillionidae (n = 3). This added 14 species to the known bat fauna of the SBNP, which is hereby updated to 24 species, including Dermanura cinerea Gervais, 1856, Platyrrhinus recifinus (Thomas, 1901), and Myotis ruber (É. Geoffroy, 1806), which are listed as endangered in Rio de Janeiro state. The specimen of Trinycteris nicefori (Sanborn, 1949) captured in the present study is the first record of the occurrence of this species in Rio de Janeiro state. This record extends the geographic range of the species by approximately 650 km to the southeast. Additional inventories, in particular at poorly-studied Atlantic Forest sites, combined with environmental suitability analyses, and taxonomic and biogeographic data, are urgently required to elucidate the distribution of many Brazilian bat species, such as T. nicefori.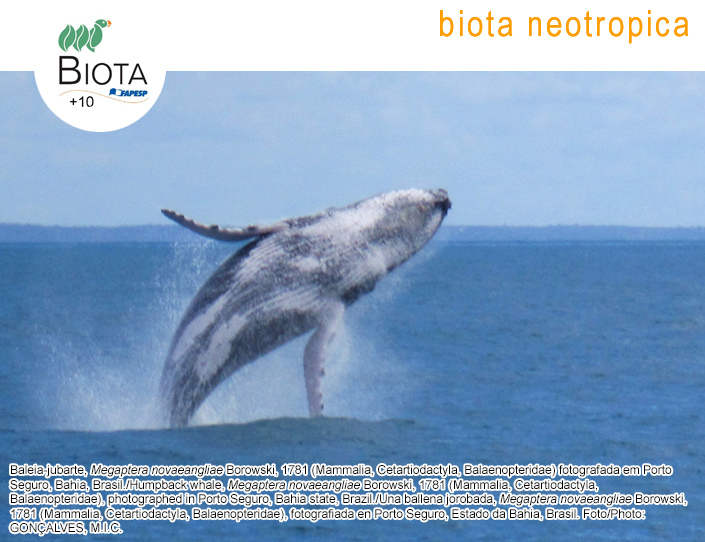 How to Cite
Delciellos, A. C., Motta, A., Dias, D., Almeida, B., & Rocha-Barbosa, O. (2018). Bats of the Serra da Bocaina National Park, southeastern Brazil: an updated species list and a distribution extension for Trinycteris nicefori (Sanborn, 1949). Biota Neotropica, 18(4). Retrieved from //www.biotaneotropica.org.br/BN/article/view/1547