Nesting behavior of Didelphis aurita: twenty days of continuous recording of a female in a coati nest
Keywords:
Nasua nasua, marsupial, nest appropriation, nidification, common opossum, parental behavior
Abstract
Abstract: Choosing the nest site to raise a litter has consequences on female fitness in mammalian species with no male participation in the parental care. We accidentally video recorded a coati's nest appropriation by a female opossum Didelphis aurita, at Parque Ecológico do Tietê, State of São Paulo, Brazil. For 29 days, from December 22, 2011, to January 19th, 2012, the activity of the female was video recorded 24h/day with a camera trap installed close to the nest. At her first appearance, she had infants in her pouch. After taking leaves to the nest twice on the first night, she kept a routine of going out after sunset and returning to the nest before dawn, carrying leaves on the tail on seven occasions. During the last days of recording, infants were seen attached to the female's body. Another episode of a female opossum with infants using a nest previously constructed by a coati was registered in 2013. To our knowledge, this is the first continuous description of the daily activity of opossums during the nesting phase.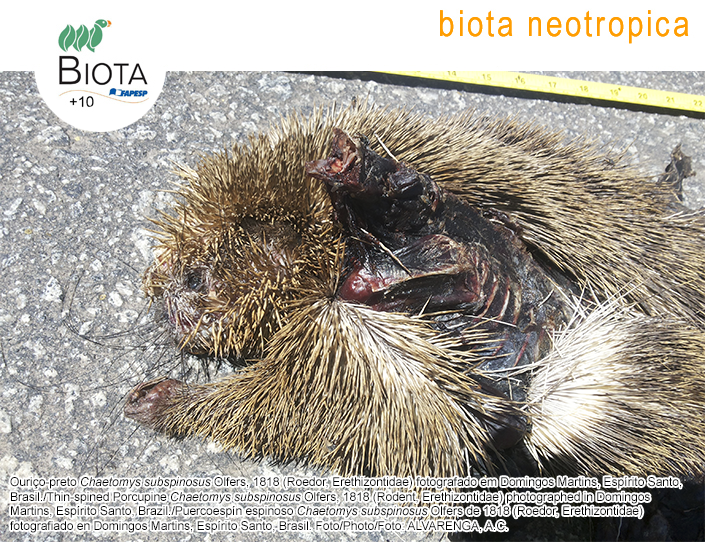 How to Cite
Monticelli, P. F., & Gasco, A. (2018). Nesting behavior of Didelphis aurita: twenty days of continuous recording of a female in a coati nest. Biota Neotropica, 18(3). Retrieved from //www.biotaneotropica.org.br/BN/article/view/1545
Section
Short Communications