A community of flower-visiting bees (Hymenoptera: Apoidea) in the coastal sand dunes of northeastern Brazil
Keywords:
bee's abundance, bee diversity, community structure, restinga and dunes, morpho-functional groups, Northeast Brazil
Abstract
We analyzed aspects of the community structure of Apoidea of a restricted area of dunes with restinga vegetation in Salvador, Bahia, Brazil. Standardized samples were taken for one year, 3 times a month from 6:00 a.m. to 6:00 p.m. A total of 3983 individuals (3770 females and 213 males) of 49 species, grouped into 13 morpho-functional types and belonging to five families, were collected from flowers in its majority. The fauna of Abaeté is composed by large solitary bees, best represented by Anthophoridae followed by Apidae; Halictidae; Megachilidae and Colletidae. Bees were active throughout the year, with peaks of abundance in periods of low rainfall. Daily activity was greatest between 08:00 and 14:00 hours, when relative humidity was lower and temperature higher. The abundance pattern and the richness were very similar to other habitats in the Brazilian Northeast. Of the species sampled, 49% were represented by less than eight individuals. The six most abundant species were represented by 84% of the total individuals collected. The availability of resources seems to be the main factor regulating bee flight activity in Abaeté. The foraging activity was related positively to the intensity of flowers in the field.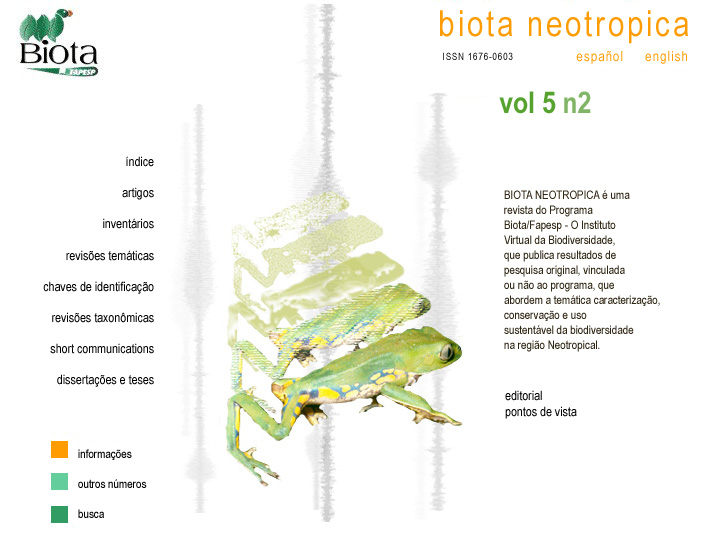 How to Cite
Viana, B. F., & Kleinert, A. de M. P. (2005). A community of flower-visiting bees (Hymenoptera: Apoidea) in the coastal sand dunes of northeastern Brazil. Biota Neotropica, 5(2). Retrieved from https://www.biotaneotropica.org.br/BN/article/view/146