The South-American rattlesnake Crotalus durissus: feeding ecology in the central region of Brazil
Keywords:
diet composition, mammal specialization, lizards, Cerrado
Abstract
Abstract We investigated food patterns in the diet composition of 452 specimens of Crotalus durissus from Central Brazil. Thirty-three items were recorded corresponding to four categories: rodents (75.76%), marsupials (6.06%), unidentified mammals (9.09%) and reptiles (9.09%). Adults of both sexes and some juveniles feed mostly on mammals, specifically rodents, it is the most active and abundant prey throughout the year mainly in areas from Cerrado. In addition, we observed that in C. durissus there is a trend in the diet of females could be more diverse, maybe this can be associated to sexual differences involving different strategies of the feeding biology of this rattlesnake.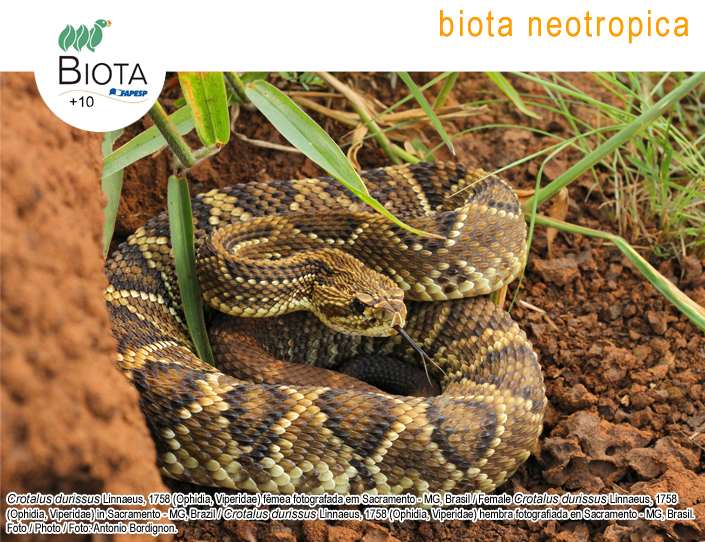 How to Cite
Hoyos, M. A., & Almeida-Santos, S. M. (2016). The South-American rattlesnake Crotalus durissus: feeding ecology in the central region of Brazil. Biota Neotropica, 16(3). Retrieved from //www.biotaneotropica.org.br/BN/article/view/1399