Life-history features of a rapids-dwelling loricariid catfish from Atlantic forest streams, Brazil
Keywords:
Neoplecostomus microps, Loricariidae, distribution, spawn, sexual dimorphism
Abstract
Spatial distribution, suitable spawning sites, and sexual dimorphism were investigated in armored catfish Neoplecostomus microps in the Macaé River from March 2004 to March 2005. Individuals of N. microps (n=290) were limited to fast-flowing stretches, and the distribution was related to ontogenetic development. Larvae in post-flexion occurred in the marginal vegetation, and adults only in gaps between boulders and stones in the river channel. Juveniles occurred in both environments. Spawns were found in the natural habitat in rapid stretches, with the eggs attached to the lower surface of stones in openings formed in the riverbed. The number of eggs per stone ranged from 62 to 375, with significant differences among the mean sizes of the eggs. Sexual dimorphism was noticed to N. microps. The anal and urogenital papillae are separated in males and merged in females and there is an epidermal growth along the pectoral-fin spine of males.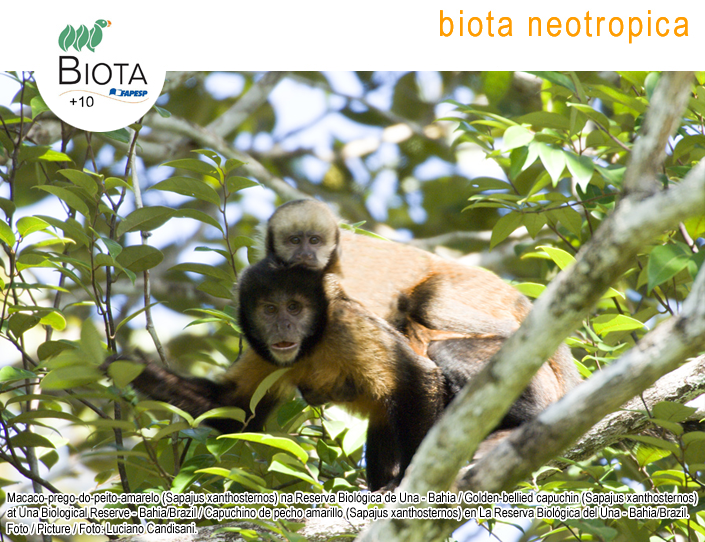 How to Cite
Brito, M. F. G., Lazzarotto, H., & Caramaschi, E. P. (2016). Life-history features of a rapids-dwelling loricariid catfish from Atlantic forest streams, Brazil. Biota Neotropica, 16(2). Retrieved from //www.biotaneotropica.org.br/BN/article/view/1367