The genus Pinnularia (Bacillariophyta, Pinnulariaceae) from Lago dos Tigres, Britânia, Goiás, Brazil
Keywords:
blocked river valley, Pinnularia meridian, Pinnularia instabilis, lectotypification, central-western Brazil
Abstract
Studies of the genus Pinnularia Ehrenb. are only incipient in central-western Brazil, especially in Goiás. Only 20 of the 170 taxa known from Brazil were recorded in this state until now. A taxonomic study of Pinnularia from Lago dos Tigres (Tocantins-Araguaia River Basin) recorded 20 specific and infraspecific taxa, distributed in 17 species, including P. instabilis whose lectotype is designated here. Only P. meridiana var. meridiana was previously recorded in aquatic systems of the state. Eighteen taxa are newly recorded for Goiás, and one is the first record in Brazil. The Pinnularia flora from Lago dos Tigres contains nine taxa in common with the Amazon River Basin flora, and seven other taxa that occur elsewhere in the Paraná River Basin.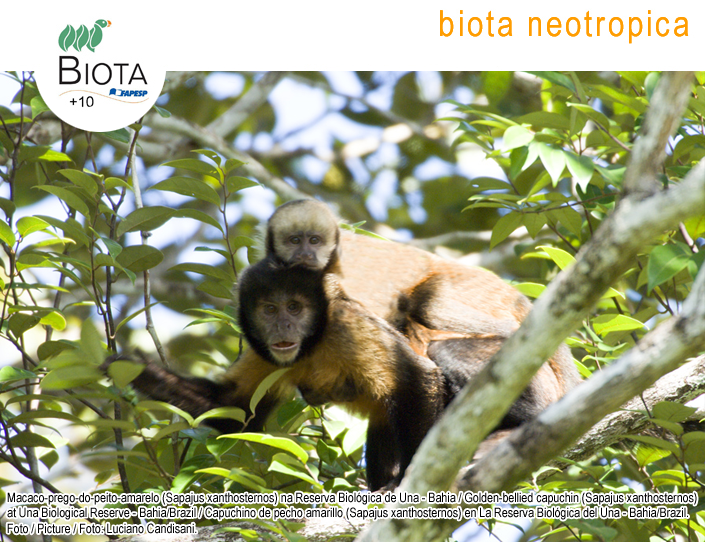 How to Cite
da Silva, W. J., Ruwer, D., Nogueira, I., & Dunck, B. (2016). The genus Pinnularia (Bacillariophyta, Pinnulariaceae) from Lago dos Tigres, Britânia, Goiás, Brazil. Biota Neotropica, 16(1). Retrieved from //www.biotaneotropica.org.br/BN/article/view/1365