Fish fauna from Sapucaí-Mirim River, tributary of Grande River, upper Paraná River basin, Southeastern Brazil
Keywords:
Neotropical region, freshwater fishes, composition, biodiversity, spatial distribution
Abstract
The fish species composition of Sapucaí-Mirim River is herein reported and discussed in the faunistic context of Grande and Paranaíba river basins, both formers of the Paraná River. The Sapucaí-Mirim is an important tributary of this hydrographic system, flowing to the left bank of Grande River in a region occupied by the reservoir of the Porto Colombia hydroelectric power plant, at São Paulo state northeastern region, in southeastern Brazil. The poorly known fish diversity of the Sapucaí-Mirim River is presented on basis of sampling efforts conducted in the main river channel and three creeks located at the mid and lower sections of the basin, allowing comparisons of the fish fauna of these two sections in the light of available information of fish inhabiting Grande and Paranaíba river basins. The study of the fish composition resulted in the recognition of 68 species in the Sapucaí-Mirim River, belonging to 23 families distributed in seven orders, all commonly found in upper Paraná River basin: Characiformes (32 spp.), Siluriformes (25 spp.), Labriformes (4 spp.), Gymnotiformes (3 spp.), Cyprinodontiformes (2 spp.), Perciformes (one species) and Synbranchiformes (one species). Most of the species are representative of the native ichthyofauna, but the total diversity also includes allochthonous species, which were chiefly found in the lower stretch studied. Some species found in the Sapucaí-Mirim River require great areas for their maintenance, as do large-sized species, known to have migratory reproductive habits. Also, the diversity of small and medium-sized species found and their distinct morphological and biological attributes, allied to the occurrence of endangered fish species, indicate that the Sapucaí-Mirim River basin is an important place for fish diversity maintenance in the Grande River hydrographic system.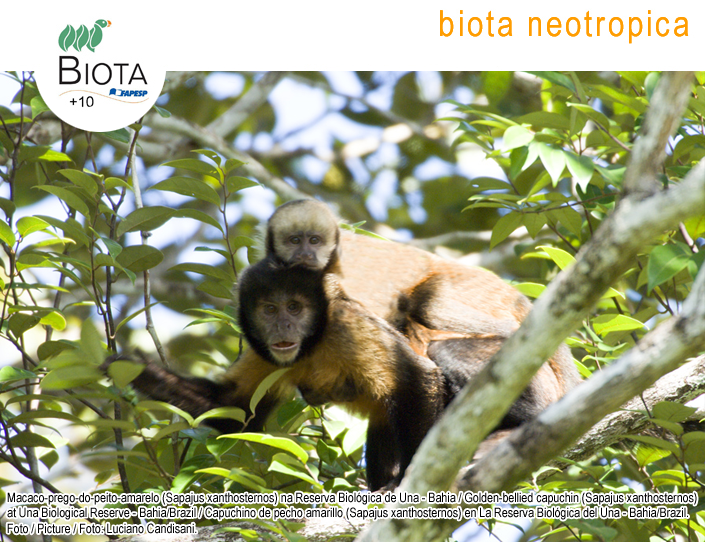 How to Cite
Oliveira, A. K. de, Garavello, J. C., Cesario, V. V., & Cardoso, R. T. (2016). Fish fauna from Sapucaí-Mirim River, tributary of Grande River, upper Paraná River basin, Southeastern Brazil. Biota Neotropica, 16(1). Retrieved from https://www.biotaneotropica.org.br/BN/article/view/1356