Survey of Bioluminescent Coleoptera in the Atlantic Rain Forest of Serra da Paranapiacaba in São Paulo State (Brazil)
Keywords:
Lampyridae, Phengodidae, Elateridae, Elateroidea, Staphylinidae, bioluminescence, Fireflies, Atlantic Rainforest
Abstract
Brazil is the country with the largest number of bioluminescent beetle species in the world. However, estimates suggest that this number could much be higher, since many species remain to be discovered. In this work we made a survey of the species of bioluminescent beetles in Serra de Paranapiacaba - the largest remnant of Atlantic Forest in São Paulo State. The survey was done at Intervales State Park, Carlos Botelho State Park and municipality of Tapiraí and the following species were collected: Aspisoma lineatum, Aspisoma physonotum, Aspisoma fenestrata, Cratomorphus besckey, Cratomorphus distinctus, Photinus penai, Photinus sp1, Photinus sp9, Ethra aff. malledicta or axilaris, Ethra aff. adicta , Lucidotini incertae sedis, Cladodes flabellicornis, Cladodes demoulini, Amydetes lucernuta, Bicellonycha sp8, Bicellonycha ornaticollis, Pyrogaster lunifer, Pyrogaster moestus, Pyrogaster sp2, Pyrogaster sp5, Pyrogaster sp6, Photuris lugubris, Photuris sp1, Photuris sp7, Stenophrixotrix sp1, Brasilocerus sp1, Pseudophengodes sp1, Hapsodrilus pyrotis, Hypsiophtalmus sp1, Ptesimopsia luculenta, Pyroptesis cincticollis, Pyrearinus brevicolis, Pyrearinus candelarius, Pyrearinus micatus, Pyrophorus divergens. Our data show that Serra de Paranapiacaba is the second richest area in São Paulo state, especially in elaterids, with unique species typical of this area and species common to other investigated sites such as the Biological Station of Boracéia (in Salesópolis county) and the urbanized areas in the between Campinas - Sorocaba- São Paulo, originally covered to the Atlantic Rainforest.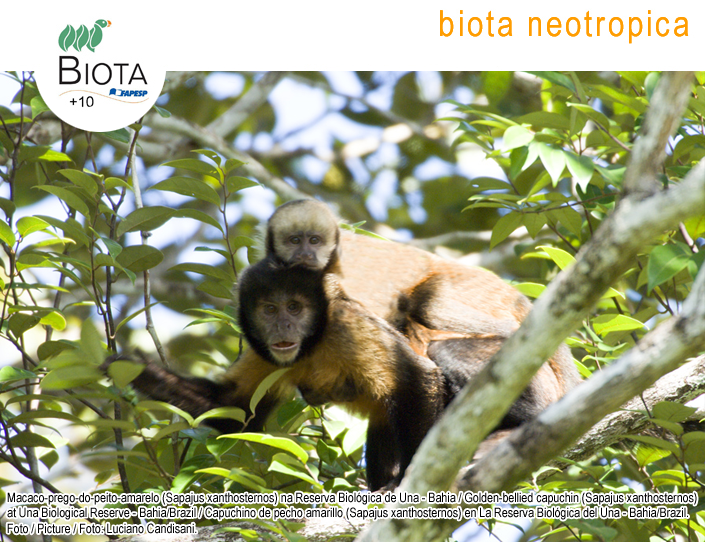 How to Cite
Santos, R. M., Schlindwein, M. N., & Viviani, V. R. (2016). Survey of Bioluminescent Coleoptera in the Atlantic Rain Forest of Serra da Paranapiacaba in São Paulo State (Brazil). Biota Neotropica, 16(1). Retrieved from //www.biotaneotropica.org.br/BN/article/view/1353