Benthic marine algae from the insular areas of Paraná, Brazil: new database to support the conservation of marine ecosystems
Keywords:
Seaweeds, inventory, Paraná Coast, Southern Atlantic
Abstract
This study describes the diversity of benthic marine algae from insular areas of the southern Brazilian coast. Algal samples were collected between 2006 and 2010 during the winter and the summer seasons at three sites in the coastal waters of Paraná, Brazil: Ilha do Mel, Currais Archipelago and Ilha do Farol. The samples were collected along parallel transects on the coast. In this survey, Paraná marine phycoflora comprised 139 taxa (90 Rhodophyta, 27 Chlorophyta and 22 Phaeophyceae). Fifty-two species represent new records for the state, and 14 taxa are present at all sampling sites and in both seasons. Higher diversities of rhodophytes and chlorophytes were observed at Ilha do Mel, while phaeophytes were more diverse at Currais Archipelago. Lower algal diversity was observed at Ilha do Farol, a sampling station which is near an urban area. Ceramiaceae, Rhodomelaceae and Corallinaceae were dominant among Rhodophyta, Cladophoraceae and Ulvaceae among Chlorophyta, and Dictyotaceae and Sargassaceae among Phaeophyceae. Seasonal and spatial differences in species composition could be explained by the availability of consolidated substrate, water transparency and proximity to an urban area. Seaweed biodiversity from the Paraná coast also presents low species richness compared to other Brazilian states as a result of the shorter coastline, lower availability of rocky shores, and the location between estuarine systems (Paranaguá and Guaratuba Bays). These bays input a large amount of continental water, resulting in decreased salinity, high concentrations of suspended particulate matter and low transparency in the water column. Knowledge of seaweed diversity is essential for conservation studies. In addition, environmental monitoring programs undertaken during medium- to long-term seasonal changes could be improved to reflect changes detected through new records, the introduction of alien species in the area of interest, or even dominance of opportunistic species over other taxa. Therefore, a database able to support the monitoring of biodiversity is a fundamental step in detecting environmental impacts that could change seaweed biogeography, mainly in urbanized and harbor areas.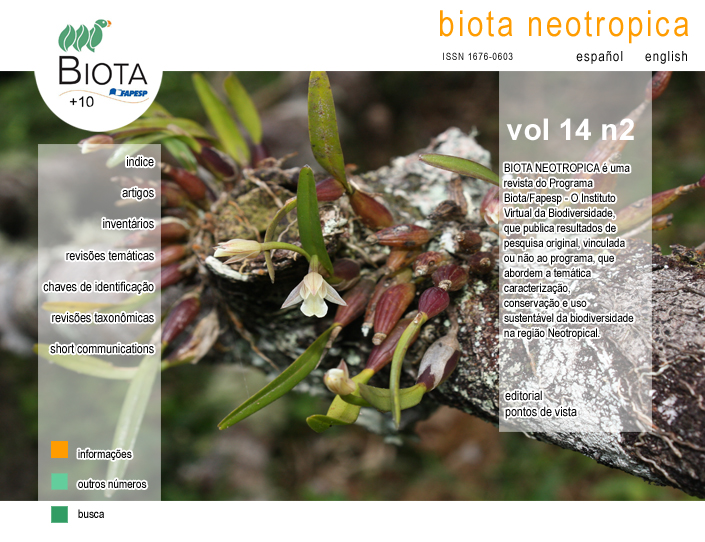 How to Cite
Pellizzari, F. M., Bernardi, J., Silva, E. M., Silva, M. C., & Yokoya, N. S. (2014). Benthic marine algae from the insular areas of Paraná, Brazil: new database to support the conservation of marine ecosystems. Biota Neotropica, 14(2). Retrieved from //www.biotaneotropica.org.br/BN/article/view/1349