Seasonal variation of consumption of the species used as fruit source by brown howler monkeys (Alouatta clamitans) in southern Brazil
Keywords:
diet, frugivory, fruiting phenology, guariba, seasonal semideciduous forests
Abstract
Considering the seasonal variation of fruits availability in seasonal semideciduous forests, this study analyzed whether the richness of fruit species exploited by Alouatta clamitans is higher in the rainy period rather than the dry one. Plant species consumed were investigated by visualization and feces analysis, from July 2005 to June 2006, in a seasonal semideciduous forest fragment in Paraná state, Brazil. Ten species of fruits were consumed during the rainy period and 13 during the dry period: three were consumed exclusively during the rainy period; six exclusively during the dry period; and seven in months that covered both dry and rainy periods. The number of fruit species consumed during the rainy period was considerably lower than the expected richness. Moreover, among fruit species consumed during the rainy period, only four bear fruits mainly in this period of the year, the other species bear fruits in great part of it. Therefore, the selectivity of A. clamitans was mainly directed to species capable of providing fruits along the year, prioritizing these species even when other fruit sources are available.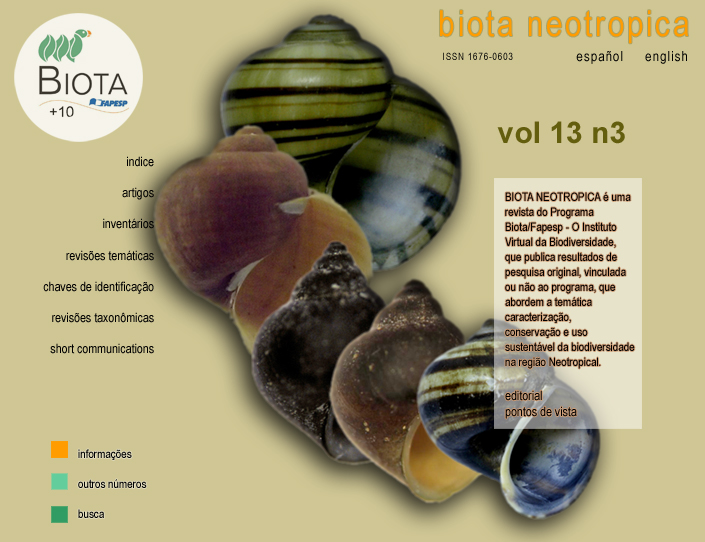 How to Cite
Santos, G. A. da S. D. dos, Bianchini, E., & Reis, N. R. dos. (2013). Seasonal variation of consumption of the species used as fruit source by brown howler monkeys (Alouatta clamitans) in southern Brazil. Biota Neotropica, 13(3). Retrieved from //www.biotaneotropica.org.br/BN/article/view/1268