Morphological aspects of the testes of 18 species of terrestrial of Heteroptera from Northwestern São Paulo (Brazil)
Keywords:
testicles, peritoneal sheath, lobes
Abstract
The Heteroptera are known for their odour, for being pests or for being disease carriers. However, they are still not extensively studied, perhaps because they form a very large group. Therefore, with the aim of enhancing the knowledge of the morphology of the testes of this insect order, we collected and analysed 18 species of terrestrial Heteroptera from the northwestern part of São Paulo. The analysis of these species revealed some differences between the testicles of these species, including their shape (elongated, oval, round or pecten), the morphology of the testicular lobes (elongated and paired side by side or united in a single region), the colours of the peritoneal sheath that surrounds the lobes (red, orange, yellow or translucent), and the number of testicular lobes (one, two, four, five, six or seven). Because the aspects analysed were highly variable, our study suggests a need for further analysis of Heteropteran testicular morphological differences.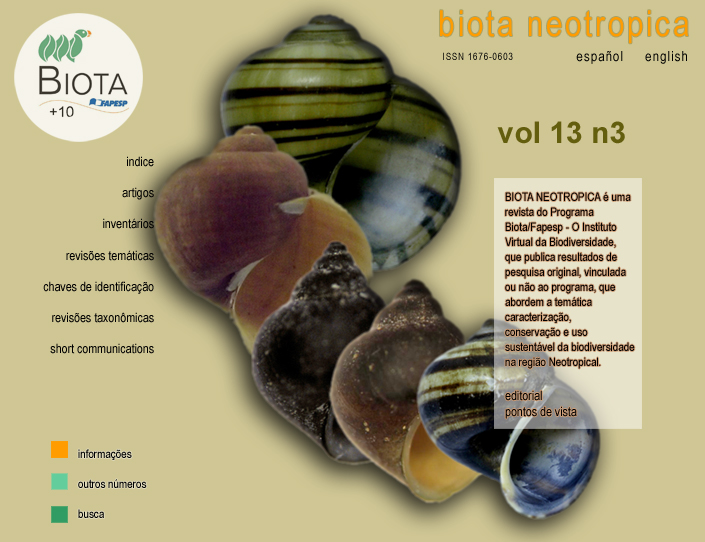 How to Cite
Gomes, M. O., Castanhole, M. M. U., Souza, H. V. de, Murakami, A. S., Firmino, T. S. de S., Saran, P. S., Banho, C. A., Monteiro, L. da S., Silva, J. C. P. da, & Itoyama, M. M. (2013). Morphological aspects of the testes of 18 species of terrestrial of Heteroptera from Northwestern São Paulo (Brazil). Biota Neotropica, 13(3). Retrieved from //www.biotaneotropica.org.br/BN/article/view/1266