Urban ant diversity (Hymenoptera: Formicidae) in ten cities of southern Brazil
Keywords:
ant fauna, forest fragmentation, green spaces, richness, tramp ants
Abstract
The urbanization process has been considered as one of the major threats to biodiversity and, among organisms found in urban areas ant represents an important but poorly studied group compared with other insects. Knowing the richness and composition of ant fauna inhabiting urban areas and factors exerting pressure on these communities are essential to set up management and conservation plans. The present study aimed to evaluate the diversity of ants in ten cities from the southern region of the Atlantic Forest biome. Assemblages were evaluated and compared by means of rarefaction and richness estimators. We recorded 8,790 occurrences, 140 species distributed into 37 genera, 19 tribes and nine subfamilies, corresponding to 38.2% of ant fauna known for the Santa Catarina State. Ant assemblages did not differ markedly as for richness, however nine cities presented exclusive species, suggesting variation in species composition. The existence and conservation of environments like forest remnants and green areas within the urban perimeter can explain the richness and abundance of these ant assemblages.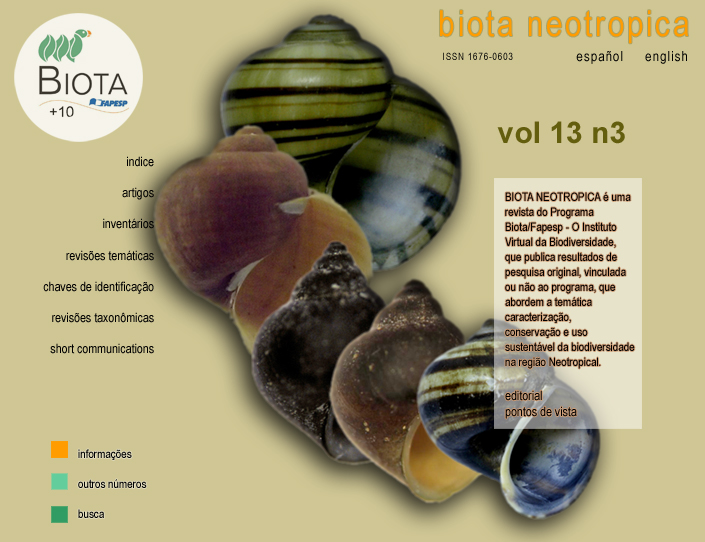 How to Cite
Lutinski, J. A., Lopes, B. C., & Morais, A. B. B. de. (2013). Urban ant diversity (Hymenoptera: Formicidae) in ten cities of southern Brazil. Biota Neotropica, 13(3). Retrieved from //www.biotaneotropica.org.br/BN/article/view/1261