Terrestrial isopods (Crustacea: Isopoda: Oniscidea) in termite nests (Blattodea: Termitidae) in a cocoa plantation in Brazil
Keywords:
Termitariophilous, Nasutitermes, Atlantoscia
Abstract
Various animals live in termite nests as secondary occupants. Among them are terrestrial isopods. We found five species of terrestrial isopods (Oniscidea) in 17 of 34 termite nests of Nasutitermes in a cocoa plantation near Ilhéus, Bahia, Brazil (in 2 aging and 15 abandoned nests). The 14 active, 1 aging and 2 abandoned nests bore no isopods. The oniscideans were Atlantoscia rubromarginata, an undescribed species of Atlantoscia (Philosciidae), Pudeoniscus birabeni, P. obscurus (Pudeoniscidae) and Neotroponiscus carolii (Bathytropidae). Of the 146 individuals collected, 122 were A. rubromarginata. Due to the absence of isopods in active nests, these terrestrial isopods are considered termitariophilous.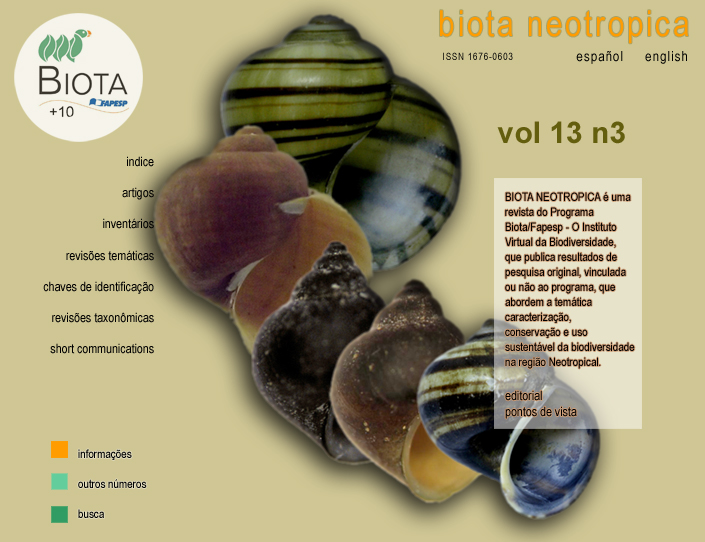 How to Cite
Lisboa, J. T., Couto, E. da C. G., Santos, P. P., Delabie, J. H. C., & Araujo, P. B. (2013). Terrestrial isopods (Crustacea: Isopoda: Oniscidea) in termite nests (Blattodea: Termitidae) in a cocoa plantation in Brazil. Biota Neotropica, 13(3). Retrieved from //www.biotaneotropica.org.br/BN/article/view/1257
Section
Short Communications