Benthic macroinvertebrate community structure and seasonal variation in a neotropical stream in the State of Alagoas, Brazil
Keywords:
aquatic insects, diversity, environmental factors, lotic environment, zoobenthic fauna
Abstract
This paper presents a study on the macrobenthic community in the Salvia stream, a headwater stream that runs through a conserved Atlantic forest fragment in the state of Alagoas, Brazil, and identifies the environmental factors that most influence the community structure. Ten sampling sites were chosen, conducting each collection during the rainy season of 2010 and the dry season of 2011. At each site the macroinvertebrates were collected using a D net (0.250 mm mesh). Water samples were collected and taken to the laboratory to analyze Dissolved Oxygen, Conductivity, pH and Alkalinity. Water temperature, surface current speed and depth were measured at the site. Canonical Correspondence was used to analyze the effect of environmental factors on the macroinvertebrate community. All the environmental factors measured showed significant variation between seasons, showing the seasonality effects on the stream environment. Eighteen taxa were identified, with predominance of Palaemonidae (Decapoda) and Chironomidae (Diptera), respectively, during the rainy and dry season. The results showed that the macroinvertebrates were more correlated to pH, Alkalinity and Dissolved Oxygen, indicating that this ecosystem variation is mainly based on the organic matter decomposition process.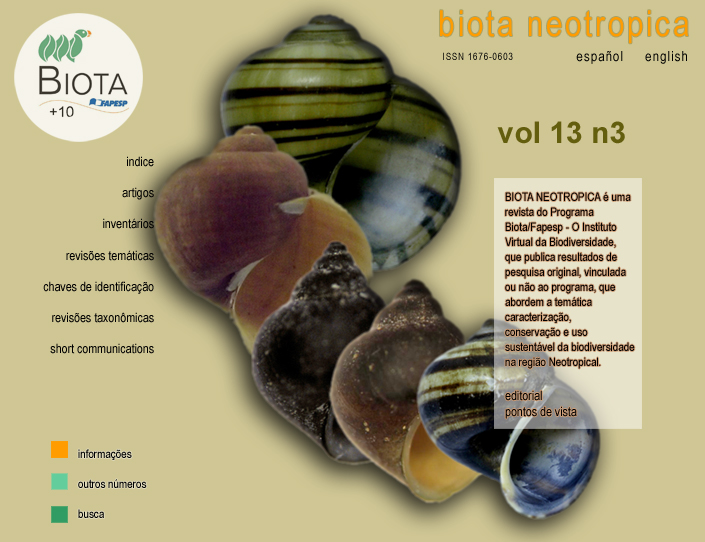 How to Cite
Linares, M. S., Faccioli, G. G., & Freitas, L. M. (2013). Benthic macroinvertebrate community structure and seasonal variation in a neotropical stream in the State of Alagoas, Brazil. Biota Neotropica, 13(3). Retrieved from //www.biotaneotropica.org.br/BN/article/view/1256