A new species of Omphale Haliday 1833 (Hymenoptera: Eulophidae) from Brazil, parasitic on gall-midges on Croton floribundus Spreng (Euphorbiaceae)
Keywords:
gall-maker, Cecidomyiidae, parasitoid, tritrophic interaction, Neotropical
Abstract
A tritrophic relationship involving the plant Croton floribundusSpreng (Euphorbiaceae), an unidentified gall-midge belonging to eitherClinodiplosis Kieffer 1895 or Alycaulus Rübsaamen 1916 (Diptera: Cecidomyiidae), and a new species of parasitic wasp belonging toOmphale Haliday 1833 (Hymenoptera: Eulophidae) is described. The gall andOmphale japii sp. nov., are described and illustrated. This is the third record ofOmphale from Brazil and the new species is compared to otherOmphale species from the Neotropical region.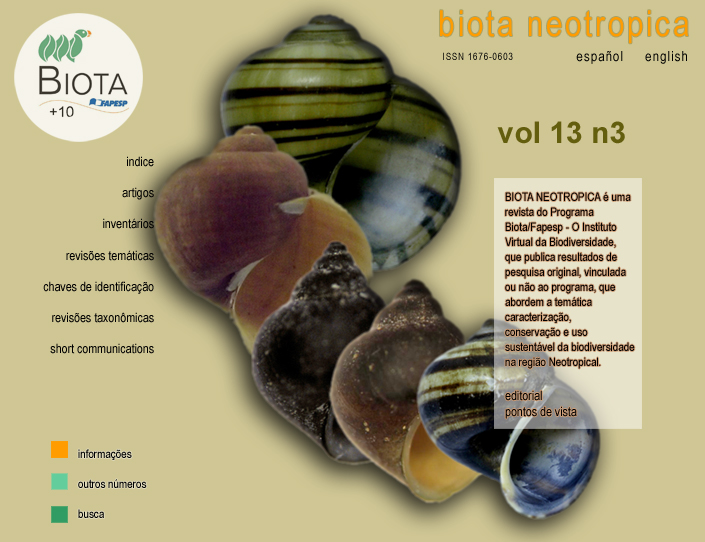 How to Cite
Gomes, G. C., Franco, M. S., & Hansson, C. (2013). A new species of Omphale Haliday 1833 (Hymenoptera: Eulophidae) from Brazil, parasitic on gall-midges on Croton floribundus Spreng (Euphorbiaceae). Biota Neotropica, 13(3). Retrieved from //www.biotaneotropica.org.br/BN/article/view/1253