Arbuscular mycorrhizal colonization in Asteraceae from white sand savannas, in Pinar del Río, Cuba
Keywords:
internal morphology, Paris-type, Arum-type, Intermediate type, quartzitic sands, dark septate endophytes
Abstract
Asteraceae family shows a great diversity in Cuba and presents threatened taxons in high number. Pinar del Río has 19 threatened species belonging to this family and three of them are characteristic of a sandy (quartzitic) soil at the Reserva Florística Manejada San Ubaldo-Sabanalamar (Floristic Reserve San Ubaldo-Sabanalamar). The arbuscular mycorrhizal status and colonization rate in Aster grisebachii, Erigeron bellidiastroides, Erigeron cuneifolius, Pectis juniperinaand Sachsia polycephala (Asteraceae) from this Reserve was determined in October 2009 and April 2010, during hydrologic rainy and dry period, respectively. All species were mycotrophic in both periods with a high percentage of colonization rates, between 66 and 100% in rainy period and between 84 and 100% in dry period. Vesicles, arbuscules, spores, hyphal and arbuscular coils of arbuscular mycorrhizae were observed. Paris -type andArum -type morphologies (both) were observed indistinctly in all the species, and Intermediate type was observed only in Aster grisebachii andErigeron bellidiastroides, which could be a hint that these species are colonized by more than one fungal species, and therefore enhancing the relevance of fungal identity as a considerable character in the morphology association. Also, septate hyphae and microsclerotium of dark septate endophytes were identifyed inside the roots of all the species.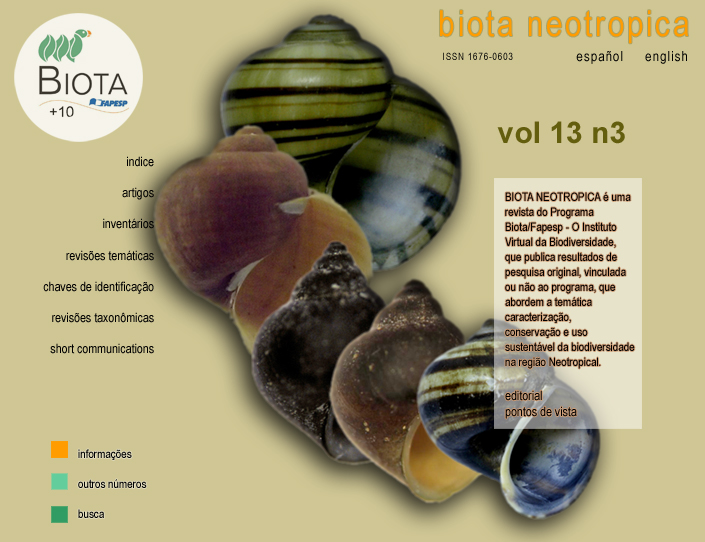 How to Cite
Rodríguez-Rodríguez, R. M., Herrera, P., & Furrazola, E. (2013). Arbuscular mycorrhizal colonization in Asteraceae from white sand savannas, in Pinar del Río, Cuba. Biota Neotropica, 13(3). Retrieved from //www.biotaneotropica.org.br/BN/article/view/1249