Mollusc assemblage in an urban bay nearby a marine extractive reserve, Florianópolis - SC, Brazil
Keywords:
sand tidal flat, mud bottom, feeding habits, Anomalocardia brasiliana, Southern Brazil
Abstract
have described the spatio-temporal variation of mollusc assemblage in a coastal urban bay near a Marine Extractive Reserve (RESEX), where several human activities are performed. Uni and multivariate analyses were conducted considering spatial (six sampling stations) and temporal scale (30 surveys from 2002 to 2008) and two associations were recognized. We identified 48 species from 28 families belonging to four classes: Bivalvia, Gastropoda, Polyplacophora, and Scaphopoda. The Sand Tidal Flat association had a contribution of more than 90% of Anomalocardia brasiliana (Gmelin, 1791) as well as a higher diversity and similarity among surveys. The Mud Bottom association had a lower similarity among surveys due to the low abundance of species. The feeding habits of molluscs were different between the associations. The climate and the fauna followed a seasonal pattern, with low variance over years. The highest diversity was detected at the end of a highway construction, indicating a rapid recolonization, probably due to the proximity to a protected area. We highlight the need to the conservation of sand tidal flats, mostly because of their high diversity, location in a transitional zone between marine, freshwater, and terrestrial ecosystems (connected with mangrove forests), in addition to the economic importance, and anthropogenic pressure.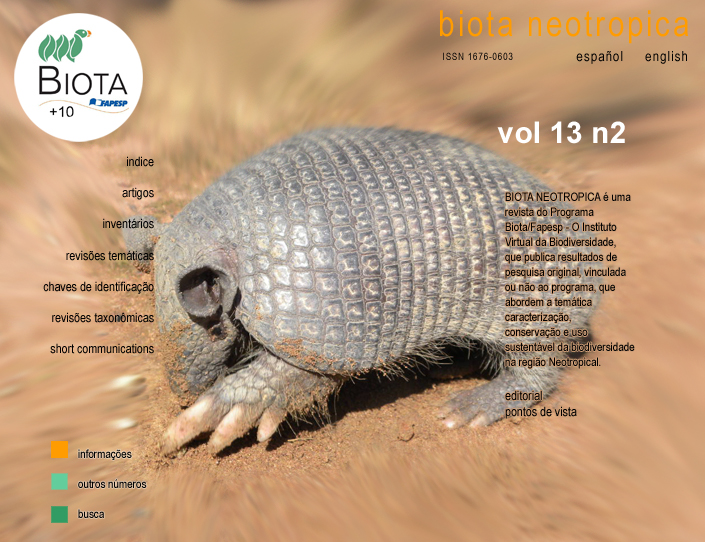 How to Cite
Gandara-Martins, A. L., & Almeida, T. C. M. de. (2013). Mollusc assemblage in an urban bay nearby a marine extractive reserve, Florianópolis - SC, Brazil. Biota Neotropica, 13(2). Retrieved from //www.biotaneotropica.org.br/BN/article/view/1183